Chicharon bulaklak is a popular Filipino appetizer usually served as "pulutan" served with either beer or other alcoholic beverages. But you don't have to drink beer to enjoy this appetizer. Just serve it with spiced vinegar as a dipping sauce and enjoy. But just eat moderately because it is high in cholesterol and it contains mostly fat. Just for the info, chicharon bulaklak is not pig intestine but only the membrane or tissue that attached to the small intestines of pigs called mesentery. Also called ruffle fat because it contains mostly fat. And I think the reason why is called chicharon bulaklak is because of its appearance, which looks like flowers. You don't usually find ruffle fat in meat vendors but only the small intestines together with the ruffle fat. So in this case, you need to remove the ruffle fat from the intestines yourself. The intestines can be used in other dishes like adobong bituka or in making hog casing for longganisa or sausages.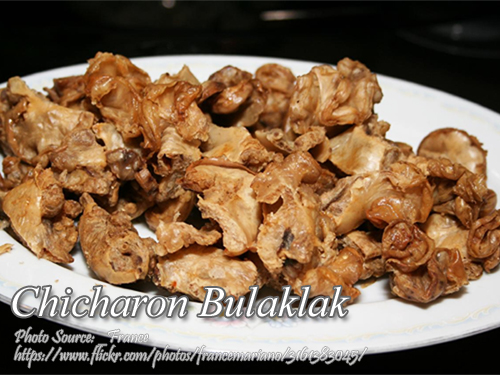 Print Recipe
Chicharon Bulaklak
Ingredients
1

kilo pigs mesentery or ruffle fat

the membrane of pig's intestine

3

pcs laurel leaves

3

Tbsp.

rock salt

1

Tbsp.

whole pepper corn

cracked

1/2

head garlic

peeled and crushed

2

onions

chopped

1

stalk of lemon grass

pound the stem and tie into a knot

1/4

cup

vinegar

2

cups

water

cooking oil for deep frying
Instructions
How to cook Chicharon Bulaklak:
Wash the pigs mesentery in running water. Drain in a colander and set aside.

In a pot, put water, salt, pepper corns, garlic, onions, lemon grass, vinegar and laurel leaves. Bring to a boil then put the mesentery.

Simmer for an hour or until the mesentery are tender. Remove from the pot and let it cool. Chop the mesentery in serving pieces and season with salt.

Heat the oil in a pan about an inch deep. When the oil is hot enough for frying, put the mesentery and fry until golden brown and crispy. Remove from the pan and drain in paper towels.

Serve with your favorite spiced vinegar dipping sauce by combining chopped onions, garlic, red chili peppers and vinegar.