Another variation of the famous binagoongang baboy Filipino dish, the binagoongang manok or chicken with shrimp paste is a very good alternative. This recipe replaces the pork used in the original dish if there are no pork available in your area. Or if you just want to avoid pork you can enjoy this binagoongan dish.
A Delicious Twist on a Filipino Classic
Binagoongang Manok is a delightful Filipino dish that offers a tasty twist on the traditional Binagoongan Baboy. If you're looking to enjoy the rich flavors of Binagoongan but prefer chicken or are simply avoiding pork, this recipe is perfect for you. In this article, we'll walk you through the steps to prepare Binagoongang Manok, a savory and satisfying dish that's sure to become a favorite in your Filipino cuisine repertoire.
Getting Started with Binagoongang Manok
Cooking Binagoongang Manok is an enjoyable and straightforward process. Here's a step-by-step guide to help you create this delicious dish:
Searing the Chicken Breast
Begin by using a medium-sized skillet or a non-stick pan. Heat it over medium-high heat and add the chicken breast pieces. Stir-fry the chicken until it achieves a beautiful golden-brown color. This step helps to seal in the chicken's juices and enhance its flavor. Once done, set the seared chicken aside.
Sautéing Garlic and Onion
In the same pan, reduce the amount of oil to about 1 tablespoon. Now, add finely minced garlic and diced onion. Sauté them until they become aromatic and the onion turns translucent. The combination of garlic and onion creates a flavorful base for the dish.
Reuniting with the Chicken
Reintroduce the seared chicken breast back into the pan with the sautéed garlic and onion. Continue to sauté for a few more minutes, allowing the chicken to absorb the aromatic flavors of garlic and onion.
Adding the Shrimp Paste
Now, it's time to introduce the star ingredient: shrimp paste. Add the shrimp paste to the pan, giving your Binagoongang Manok its signature savory and slightly salty taste. Stir it in well to ensure that the chicken is coated evenly with the shrimp paste's flavors.
Preventing Dryness with Water
To prevent the chicken breast from drying out during cooking, add a bit of water to the pan. This step ensures that the chicken remains tender and succulent while absorbing the shrimp paste's flavors. Don't add too much water; a small amount should suffice.
Welcoming Eggplant
For added texture and flavor, include sliced eggplant to the pan. The eggplant will complement the dish with its mild, earthy taste and slightly creamy texture. Allow it to cook alongside the chicken, absorbing the savory goodness of the shrimp paste.
Introducing Coconut Milk
To create the creamy and aromatic sauce that defines Binagoongang Manok, it's time to incorporate coconut milk. Add this luscious liquid to the pan, stirring gently to combine it with the other ingredients. Coconut milk not only adds creaminess but also balances the dish's flavors with a touch of sweetness.
Seasoning to Perfection
Now, it's time to season your Binagoongang Manok. Add salt and pepper according to your taste preferences. Remember that the shrimp paste is already salty, so be cautious not to overdo the salt. Pepper, on the other hand, can be adjusted to your desired level of spiciness.
Achieving the Perfect Taste
Taste your Binagoongang Manok and make any necessary adjustments to the seasoning. This dish allows for some customization, so feel free to add more shrimp paste for a stronger umami flavor or adjust the spice level with extra chili.
Wrap-Up
Binagoongang Manok is a delightful alternative to the traditional Binagoongan Baboy, offering the same bold flavors with a chicken twist. This savory Filipino dish combines seared chicken breast, aromatic garlic and onion, umami-rich shrimp paste, creamy coconut milk, and tender eggplant to create a harmonious and delicious medley of flavors and textures.
With its simple yet flavorful preparation, Binagoongang Manok is a wonderful addition to any Filipino meal. Whether you're a pork-free household, a chicken enthusiast, or simply seeking a delightful change of pace, this dish is sure to satisfy your cravings for authentic Filipino cuisine.
So, gather your ingredients, follow these easy steps, and savor the mouthwatering goodness of Binagoongang Manok. Whether you're serving it for a special occasion or a weeknight dinner, this dish is bound to become a beloved favorite in your culinary repertoire. Enjoy!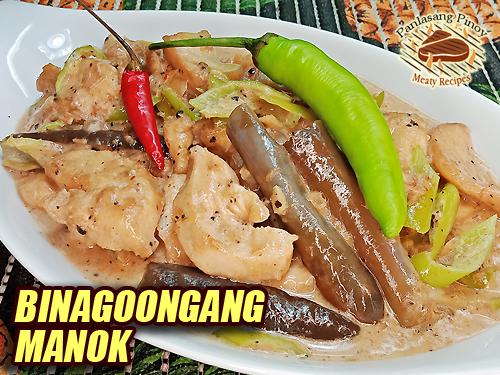 Print Recipe
How to Cook Binagoongang Manok
Another variation of the famous binagoongang baboy Filipino dish, the binagoongang manok or chicken with shrimp paste is a very good alternative.
Ingredients
1/2

kilo

chicken breast

cut into medium sized cubes (bite size)

1

cup

coconut milk

2

Tbsp.

sweetened shrimp paste

sweetened bagoong, you can buy the bottled Barrio Fiesta bagoong

5

pcs.

long green chili or siling pang-sigang

sliced

1

pc.

eggplant

slice into 2 inch length (optional)

3

cloves

minced garlic

1

pc

medium white onion

chopped

cooking oil

salt and pepper

to taste
Instructions
How to cook binagoongang manok:
In a medium size skillet or non-stick pan, stir fry the chicken breast until slightly golden brown then set aside.

Remove the oil from the pan and leave about 1 Tbsp. and saute garlic and onion.

Then add the chicken breast and saute for about a few minutes then put the shrimp paste.

You can add some water to prevent the chicken breast from drying up. Add in the eggplant.

After 2 minutes add the coconut milk and green chili.

Season with salt and pepper and adjust according to your desired taste.