Shabu-shabu or hot pot is one of the most versatile dish that you can cook. It is also very simple to make and you might be intimidated in cooking this dish because of the many ingredients that are included in the dish. But actually the only important thing in this dish is how tasty your broth is.
Whether you make a soup stock out of beef or pork bones cooked for hours and season with spices and condiments or just buy a pack of instant ramen to make the soup then cook it with the varieties of veggies, meat, seafood, and ready to cook frozen meat balls, fish tofu, lobster balls or squid balls. What I can say that is only limited by your imagination.
A Delightful Hot Pot Experience
Are you craving a comforting and flavorful dish that brings people together? Look no further than Shabu-shabu Pinoy Style, a versatile hot pot recipe that will surely satisfy your taste buds. In this recipe blog post, we will explore the art of cooking this delectable dish step by step, ensuring a delightful experience for you and your loved ones.
Creating the Perfect Broth
The heart and soul of Shabu-shabu Pinoy Style lies in the broth. Whether you choose to make a rich soup stock from scratch or opt for the convenience of instant ramen, the key is to infuse it with flavors that will elevate your dining experience. Consider using beef or pork bones, garlic, ginger, and pepper to create a savory base. Simmer the mixture for an hour to allow the flavors to meld together beautifully.
Adding a Medley of Ingredients
Once your broth is ready, it's time to embark on a culinary adventure by adding a variety of ingredients. Shabu-shabu is all about customization, so feel free to experiment with your favorite vegetables, meats, seafood, and delightful additions like ready-to-cook frozen meatballs, fish tofu, lobster balls, or squid balls. Let your imagination run wild!
The Vegetable Extravaganza
Begin by introducing a vibrant array of vegetables to your bubbling pot. Sotanghon noodles, mushrooms, carrots, corn, gabi (taro), and fish fillet are excellent choices that add texture and wholesome goodness to the dish. These vegetables not only provide a delightful crunch but also absorb the flavors of the broth, creating a harmonious blend of taste with every bite.
The Seafood Sensation
Seafood lovers rejoice! Shabu-shabu Pinoy Style offers an excellent opportunity to indulge in your favorite ocean delicacies. Consider adding succulent shrimps to your pot, allowing them to cook gently in the flavorful broth. Their sweet and briny flavor pairs perfectly with the other ingredients. You can also explore other seafood options such as scallops, mussels, or even thinly sliced fish cakes, enhancing the overall taste and texture of your hot pot.
Elevating with Condiments and Seasonings
To truly elevate your Shabu-shabu Pinoy Style, don't forget to add a dash of soy sauce, sesame oil, and sugar to further enhance the flavors. These simple yet impactful condiments bring a depth of taste and richness to the dish, making it truly unforgettable. Experiment with the quantities until you achieve the perfect balance that suits your palate.
The Finishing Touches
As the aroma of the hot pot fills your kitchen, it's time to add the final touches. Introduce lobster balls, fish tofu, and meatballs into the pot, allowing them to cook for a few minutes. These delectable additions contribute a burst of flavor and an enjoyable textural element to the dish. Lastly, add pechay Baguio (Chinese cabbage), spring onions, and crab sticks, simmering for a minute more to ensure they retain their crispness.
Time to Savor and Enjoy
Your Shabu-shabu Pinoy Style is now ready to be savored and enjoyed with family and friends. Ladle the piping hot broth into individual bowls, ensuring each serving is filled with a medley of ingredients. The beauty of this dish lies in the communal dining experience, where everyone gathers around the pot, sharing stories and laughter while enjoying the scrumptious flavors.
Unleash Your Creativity
The versatility of Shabu-shabu Pinoy Style knows no bounds. Feel free to explore new combinations of ingredients, such as adding exotic mushrooms, leafy greens, or even thinly sliced meats. Don't be afraid to experiment and cater the hot pot to your personal preferences. The only limit is your imagination!
Wrap-Up
Shabu-shabu Pinoy Style is a delightful dish that brings people together through its comforting flavors and communal dining experience. By following these simple steps, you can create a remarkable hot pot filled with a variety of ingredients that will tantalize your taste buds. So, gather your loved ones, embark on a culinary journey, and savor the heartwarming joy that this Filipino favorite brings to the table.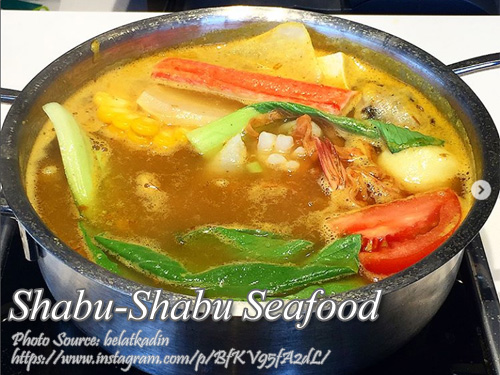 Print Recipe
Shabu-Shabu (Seafood) Pinoy Style
Shabu-shabu Pinoy Style is a versatile and flavorful hot pot dish consisting of a savory broth, an array of vegetables, meats, seafood, and delightful additions, creating a communal dining experience that is limited only by one's imagination.
Ingredients
For the soup stock:
raw beef bones and pork bones

5

cloves

garlic

peeled and minced

20

grams

ginger

chopped into strips

1

pc

beef bouillon

e.g. Knorr Beef Cubes

1/2

tsp.

ground black pepper

1 1/2

liter

water

1 to 2

Tbsp.

soy sauce

1

Tbsp.

sesame oil

1

tsp

sugar

1

Tbsp.

spring onions

chopped

salt to taste
For the shabu-shabu:
1

pc

yellow corn on a cob

slice into an inch pieces

1

small piece of gabi

taro root, peeled and halved

100

grams

fish fillet or squid

sliced

100

grams

shrimps

100

grams

pechay baguio or pechay tagalog

chopped

3

pcs

whole mushrooms

dried Shiitake mushrooms soaked in hot water for 10 minutes

1

pc

carrot

sliced

100

grams

sotanghon noodles

soak in water for 30 minutes, drain

8

pcs

lobster balls

8

pcs

fish tofu

8

pcs

meat balls

8

pcs

crab sticks
Instructions
How to cook shabu-shabu:
In a pot, combine water, beef and pork bones, garlic, ginger and pepper. Bring to boil and simmer for an hour. Then remove the bones from the broth.

Add in the sotanghon noodles, mushrooms, carrot, corn, gabi, fish fillet, shrimps, soy sauce, sesame oil and sugar. Let it simmer again for 3 minutes.

Then add the lobster balls, fish tofu and meat balls. Let it cook again for 3 minutes. Season with salt if necessary. Then last is the pechay baguio, spring onions and crab sticks and simmer again for 1 minute more. Serve hot and enjoy!
Notes
Cooking Tips of Shabu-Shabu Pinoy Style:
Prep and Arrange Ingredients: Before starting your Shabu-shabu cooking adventure, make sure to prep and arrange all the ingredients in an organized manner. This will ensure a smooth and enjoyable cooking process. Slice the vegetables, prepare the meats and seafood, and arrange them neatly on separate plates for easy access during cooking.
Don't Overcook the Ingredients: Shabu-shabu is all about maintaining the freshness and texture of the ingredients. To achieve this, avoid overcooking them. The vegetables should be slightly crisp, while the meats and seafood should be cooked just until they are tender and no longer pink. Remember to cook in small batches to avoid overcrowding the pot, which can lead to uneven cooking.
Enjoy the Broth as a Soup: While the focus of Shabu-shabu is often on the ingredients, don't forget to savor the flavorful broth as a delicious soup. After cooking the ingredients, ladle the broth into individual bowls and enjoy it alongside the cooked ingredients. You can even customize the broth by adding condiments like soy sauce, chili oil, or sesame oil to suit your taste preferences. The broth adds an extra layer of enjoyment to your Shabu-shabu experience.