Beef pares, also known as pares, is a popular dish in the Philippines. It is a combination of braised beef or beef stew as a tasty viand and a bowl of soup. The word "pares" means "pair" in English, which is a reference to the combination of the beef and the soup. The dish is commonly served with fried rice or garlic rice, making it a complete meal on its own. In this article, we will take a closer look at the origins and popularity of beef pares, as well as how it is typically prepared.
Origins of Beef Pares
The origins of beef pares can be traced back to the streets of Manila, where it was first sold as a cheap and convenient meal for the working class. The dish was created as a way to use up leftover beef from the previous day's meals. The beef was braised in a flavorful sauce made with soy sauce, sugar, and other seasonings, resulting in a tender and flavorful dish that was easy to eat on the go. Over time, the dish became more popular and started to appear on restaurant menus, where it was served with rice and soup to make it a complete meal.
Popularity of Beef Pares
Today, beef pares is a popular dish that can be found in many food establishments in the Philippines. It is particularly popular in small eateries along sidewalks, where it is served as a cheap and filling meal for those on a budget. The dish's popularity can be attributed to its convenience and simplicity, as well as its good taste. It is similar to "tapsilog," another popular Filipino dish, where everything you will eat is in a single plate. The fried rice is molded in a cup and poured some beef stew on the side, and a bowl of soup to accompany the dish.
Preparation of Beef Pares
To prepare beef pares, you will need beef, soy sauce, sugar, garlic, onion, star anise, salt, pepper, and water. The beef is cut into cubes and then boiled in water to remove any impurities. After that, it is cooked in a mixture of soy sauce, sugar, garlic, onion, star anise, salt, and pepper until it is tender and flavorful. The resulting beef stew is then served with rice and a bowl of soup.
Variations of Beef Pares
There are many variations of beef pares, depending on the region and the preferences of the cook. Some versions add ginger to the sauce for added flavor, while others use beef broth instead of water to make the stew richer. Some cooks also add vegetables such as carrots and potatoes to the stew to make it more nutritious. Others use different cuts of beef, such as beef brisket or beef belly, to give the dish a different texture and flavor.
NOTES ON THE INGREDIENTS:
Beef:
Beef is the main ingredient in beef pares. It is typically cut into cubes and boiled in water to remove any impurities before being cooked in a mixture of soy sauce, sugar, garlic, onion, star anise, salt, and pepper. Different cuts of beef can be used depending on personal preference, such as beef brisket or beef sirloin.
Soy sauce:
Soy sauce is a key ingredient in beef pares, providing saltiness and umami flavor to the dish. It is used to marinate the beef and also added to the sauce when cooking.
Sugar:
Sugar is used in beef pares to balance out the saltiness of the soy sauce and provide a hint of sweetness to the dish.
Garlic:
Garlic is a common ingredient in many Filipino dishes, and it is no exception in beef pares. It provides a pungent flavor and aroma to the dish.
Onion:
Like garlic, onion is also a staple in Filipino cooking. It is used to add sweetness and depth of flavor to the dish.
Star anise:
Star anise is a spice that is commonly used in Asian cooking. It has a licorice-like flavor and is added to the beef pares sauce to give it a unique flavor profile.
Salt and pepper:
Salt and pepper are used to season the beef and the sauce to taste.
Rice:
Rice is a staple in Filipino cuisine and is typically served alongside the beef pares as a carb component.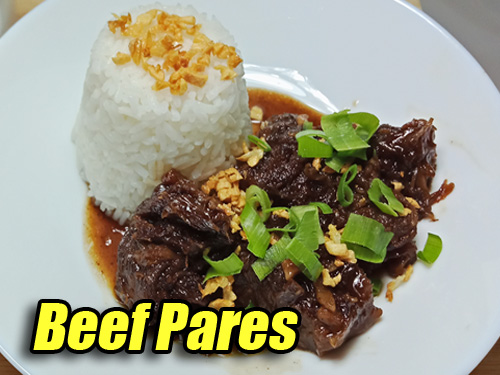 Print Recipe
How To Cook Beef Pares Recipe
Beef pares is a popular Filipino dish consisting of braised beef served with rice and soup. Its key ingredients include beef, soy sauce, sugar, and spices.
Ingredients
1

kilo

Beef Brisket cut into cubes

1

head

minced garlic

1

pc

medium size onion quartered

1

pc

large onion chopped

1

Tbsp.

grated ginger

1/2

cup

soy sauce

1/2

cup

brown sugar

2

pcs.

star anise

1

tsp.

ground pepper

1

tsp.

cornstarch

1

tsp.

sesame oil

optional

salt to taste

scallion or sibuyas mura for garnishing
Instructions
How to cook beef pares:
Boil the beef briskets in a pot with water, salt and onion. Remove the scum and cook until tender.

Transfer the meat to a bowl and set aside. Don't throw away the soup stock and set aside also.

In another pot or deep pan, saute the ginger, garlic and onion.

Put the boiled meat and stir fry for a few minutes and season with soy sauce, brown sugar, star anise and pepper.

Pour about 2 cups of soup stock. Simmer for about 5 minutes.

Add the cornstarch mixed with a little water to the pot to thicken the sauce.

Season with sesame oil and transfer to a bowl. Garnish with fried toasted garlic.

Serve with garlic rice and soup stock garnished with scallion.
Notes
Cooking Tips for Beef Pares:
Skim off scum: When boiling the beef, it is important to remove any impurities that rise to the surface of the water. This will result in a clearer and more flavorful broth.
Save soup stock: Do not discard the soup stock after boiling the beef as it will be used later in the recipe. You can strain the soup stock and set it aside for later use.
Stir-fry beef: When stir-frying the beef with the aromatics, make sure to do it over high heat to achieve a nice sear and enhance the flavor of the dish.
Simmer for a few minutes: After adding the soup stock and seasoning, let the beef pares simmer for about 5 minutes to allow the flavors to meld together.
Thickening the sauce: The cornstarch slurry is added to thicken the sauce, but be careful not to add too much as it can make the sauce too thick.
Garnish with fried garlic: Toasted garlic adds a crunchy texture and a delicious flavor to the dish. You can fry the garlic in advance or use store-bought fried garlic.
Serve with garlic rice: Beef pares is typically served with garlic rice, which is simply fried rice with garlic. You can use day-old rice for best results.
Garnish with scallion: A sprinkle of chopped scallion adds freshness and color to the dish.
Nutrition Notes:
Calorie and other nutrition information is derived from HappyFolks.Com recipe nutrition calculator. The percent daily value (%DV) is based on a daily 2,000 calorie diet.
Nutrition Information:
Amount per Serving:375g, Calories:506kcal, From fat:117,  Total fat:19.7g, Saturated Fat:6.6g, Trans Fat:0g, Cholesterol: 154mg, Sodium: 2776g, Total Carbohydrate: 24g, Dietary Fiber: 2g, Sugars: 16g, Protein: 57g, Vitamin C: 56%, Calcium: 5%, Iron: 35%