Salmon Head Sinigang
Ingredients:
1 cup kamias or batu-an fruit,whole & unpeeled
1/2 cup white onions, sliced
1/2 cup red tomatoes, sliced
1/2 cup radish, sliced
6 cup water
1/4 cup patis (fish sauce)
6 finger chilis
1 salmon head, split in half
1/2 cup sitaw (string beans)
1/2 cup talbos ng kamote (camote tops)
1/4 cup miso (optional)
How to cook Salmon Head Sinigang
Lightly sautéed onions and tomatoes in a pan. Do not use an aluminum pan!
Stainless steel or clay pot is recommended.
Add the radish and sour fruit (kamias or batu-an).
Add 6 cups of water. While the broth simmers, bruise or crush the fruit to release the flavor.
Add patis and green chilis. When the broth reaches the desired tartness, put in salmon head and sitaw.
Season with salt and pepper to taste. When done, add the kamote tops and let wilt for a minute. Serve.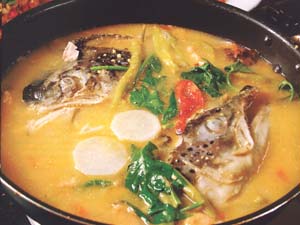 < See More Saltwater Fish Recipes