Ingredients:
1 kg Pork shoulder(kasim)
2 cups water
1/2 cup Mama Sita's Barbecue Marinade
2 Tbsp Sugar
2 pcs Laurel leaves
1 Tbsp Cornstarch, dissolved in 6 Tbsp water
2 bunches Pechay, washed and steamed
How to cook pork asado with pechay
In a casserole, combine pork, water, Mama Sita's barbecue Marinade, sugar and laurel leaves.

Simmer until pork is tender. Remove the pork from the casserole and slice thinly.
Add dissolved cornstarch to the to the sauce while stirring continuously until it thickens.
Arrange the sliced pork and steamed pechay in a plate and pour sauce over and serve.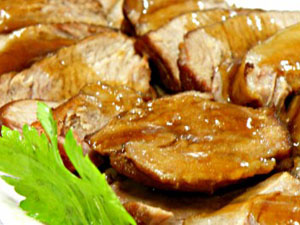 Try Other Recipes :
Chicken Inasal Using Mama Sita's Inasal Marinade

There are lots of chicken inasal recipes you can find in the internet and there are many var ...

Pork Intestines Asado

Ingredients: 1 kilo pork intestines (small intestines) 1/2 cup brown sugar 5-6 cloves g ...