Nilagang manok or boiled chicken soup is one of the simplest Filipino recipes by just boiling the chicken and dumping all the vegetables and spices in a pot and presto! you have a tasty nilagang manok dish.
Ingredients:
1 kilo chicken (cut into desired sizes)
6 cups water
20 pepper corns
2 tsp. salt
1 big onion (quartered)
2 potatoes (pared and quartered)
1 head cabbage (quartered)
4 saba bananas (halved)
1 small bundle green onion, cut into 2 inch length
1/4 kg. green beans, stringed and cut into 2 inch lengths
1 fresh pechay (native)
How to cook nilagang manok:
Place chicken in a big kettle with water, peppercorns, salt, onion, and bring to a boil.
Cover and cook until chicken is tender.
Add potatoes, bananas, cabbage, pechay, green onions and green beans and cook for a few minutes until vegetables are cooked.
Add water and season to taste. Serve hot. Good for 8 persons.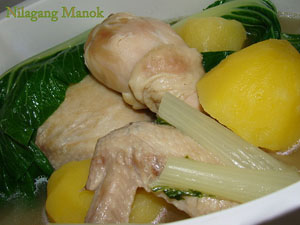 Try Other Recipes :
Pesang Manok

Pesang manok is very similar to nilagang manok and tinolang manok as they have the same cook ...

Nilagang Baboy (Boiled Pork Ribs)

Nilagang baboy or boiled pork ribs or pork belly with vegetables is a very simple Filipino s ...