Want to make your own milkfish sardines and thinks that buying a canned bangus sardines seems a but costly? Now you can make your own bangus sardines at home with very simple equipment and ingredients. The recipe I got here is tastier than the commercial ones the you see on supermarket shelves.
Ingredients:
1 kilo bangus (milk fish)
1/2 cup soy sauce
4 pcs hot chili peppers
3/4 cup brandy or rum
1/2 cup sweet mixed pickles
1 tsp salt
1/2 cup green olives
1 tsp MSG (vetsin)
2 cups olive oil
1 pc bay leaf (laurel leaves)
How to make Sardinas Na Bangus
Clean bangus but do not remove scales. Put rack into the pressure cooker.
Arrange bangus in layers the add in the rest of the ingredients.
Cover. Bring to a boil until steady steam flows out of the vent.
Place pressure control on vent. Cook for an hour. Let cool.
Remove bangus from cooker. Serve.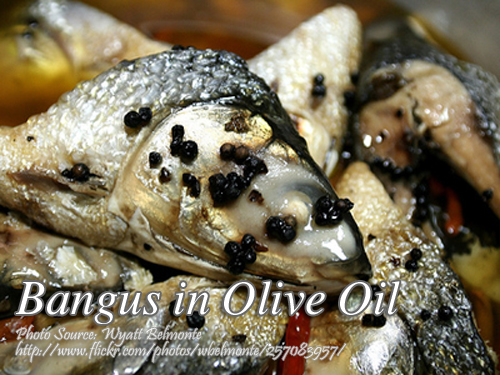 Try Other Recipes :
Grilled Milk Fish (Grilled Bangus) with Stuffings

Grilled milk fish stuffed with onions and tomatoes then wrapped with banana leaves. Ingre ...

Bangus Belly A La Pobre

Ingredients: 2 pcs bangus bellies ( milk fish bellies ) 2 tbsps chopped garlic 2 pcs ca ...