Chicken a la king is a delicious yet simple dish to make. It is a creamy chicken dish made from  cream sauce and vegetables. The recipe here make use of evaporated milk instead of heavy cream which some recipes are using but I think you can add all-purpose cream if you want to make it creamy. Since heavy cream is not the usual ingredient used in everyday cooking in an ordinary Filipino kitchen, and it is not usually found in supermarket, so I think evaporated milk and all-purpose cream will do the job. And with regard to the pastry used in making this dish, puff pasty is I think is the best, but to simplify this dish, you can use toasted sliced bread, cooked pasta or cooked rice. You also can be a little creative in making the pasty by using sliced bread. Use a muffin pan and press the sliced bread on it to form a cup shape. Then bake the bread until toasted and pour the mixture in the center of each muffin shaped bread.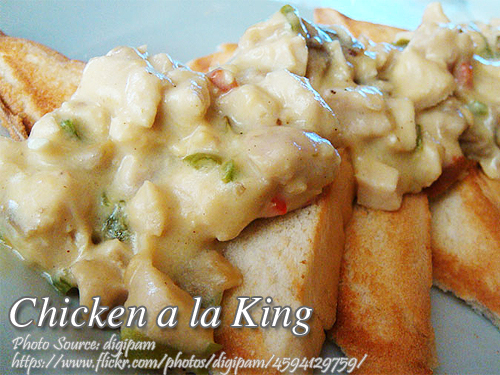 Print Recipe
How to Make Chicken a la King
Ingredients
1

cup

cooked chicken

cut into small cubes

2

Tbsp.

butter

1/4

cup

potatoes

cut into small cubes

1/4

cup

carrots

cut into small cubes

1/4

cup

button mushrooms

thinly sliced

1/4

cup

canned corn kernels

1

cup

chicken stock

1

Tbsp.

all-purpose flour

1/4

cup

evaporated milk

1

Tbsp.

sherry or dry white wine

1/4

cup

green peas

1/4

cup

red and green bell peppers

salt and pepper to taste

1

egg yolk

10

pcs. toasted sliced bread

cut into half

100

grams

quick melt cheese

shredded
Instructions
How to cook Chicken a la King:
In a medium size pan, heat butter in low heat and saute the potatoes for a minute. Then add the carrots and saute for 3 minutes.

Add in the chicken and saute or another minute. Then add in the mushrooms and corn kernels and stir. Pour the chicken stock and bring to a boil. Simmer for a few minutes.

In a bowl, combine the flour and milk and mix until the flour is dissolved. Pour the mixture in the pan and stir until the sauce is thick.

Add in the sherry, green peas and bell peppers. Simmer for another minute then season with salt and pepper.

Turn off heat and pour in the beaten egg yolk and stir until it is well mixed with the chicken ala king mixture. Allow to cool and set aside.

To make the toasted sliced bread; cut the sliced bread diagonally like a triangle on each half. Toast it in a skillet until brown. Arrange about four halves of sliced toasted bread per serving in a plate.

Pour the chicken a la king mixture about half a cup per serving. Serve with your favorite beverage and enjoy!