The kaldereta or caldereta recipe usually goes for beef or goat meat and sometimes wild duck. Rarely will you see chicken cooked as calderata maybe because of the popularity of goat or beef caldereta. Anyway you can try this recipe to make something different on your table.
Ingredients:
1 big chicken, cut into serving pieces
For marinade:
3/4 cup native vinegar
4 cloves garlic
1 teaspoon freshly ground pepper
1 teaspoon salt
1/2 cup olive oil
4 cloves garlic
2 medium onions, chopped
1/2 cup tomato sauce
1/4 cup liver spread
1 small can red pimento, sliced
1/2 cup olives
Salt
Pepper
How to cook chicken kaldereta:
Combine chicken and marinade and stand 2 hours or overnight.
Drain chicken pieces and fry in olive oil. Set aside. In the remaining oil sauté the garlic and onions.
Add tomato sauce and liver spread. Simmer for about 15 minutes, return chicken and cook till tender.
Add red pimientos and olives. Season with salt and pepper. Makes 6 portions.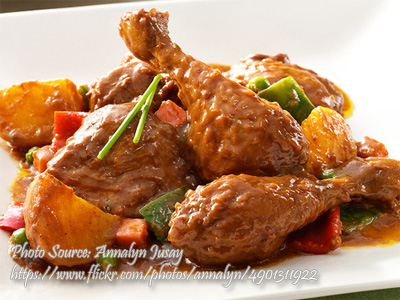 Try Other Recipes :
Beef Caldereta with Tofu

Another variation of beef caldereta is this recipe beef caldereta with tofu. It is still the ...

Goat Meat Stew - Caldereta de Cabrito

This classic slow-simmered caldereta uses excellent ingredients starting with red wine and f ...