Ingredients:
1/2 kilo sliced chicken
1/2 kilo liempo or pork belly, cubed
1 cup white vinegar
2 heads garlic, crushed
1 pc bay leaf
1 tablespoon rock salt
5 pcs peppercorn, cracked
1 cup water
cooking oil
1 teaspoon white sugar
How to cook adobong puti:
Combine pork, chicken, vinegar, garlic, bay leaf, salt, peppercorns, and water in a casserole. Let boil and lower heat. Simmer until tender. Drain the pork and chicken pieces from the broth.
Heat oil and deep fry pork and chicken pieces. Return to the broth. Simmer until liquid has been reduced to half. Add the sugar and adjust seasonings to taste. Serve hot with tomato salad.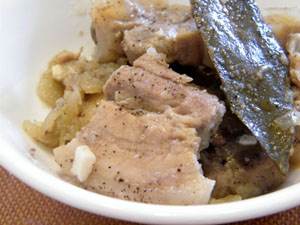 Try Other Recipes :
Adobong Manok sa Dilaw (Chicken Adobo in Turmeric)

Adobong manok sa dilaw is chicken adobo with turmeric. This is not the usual adobo with soy ...

Adobong Baka (Beef Adobo)

Adobong baka is a variation of the original pork or chicken adobo just in case you can't eat ...