This sizzling fish sisig recipe is one of the many variation of sisig and a healthy version too because it is made of fish meat. As many of us know, fish is a source of healthy omega  3 fatty acid which is good for the heart. If you are craving for pork sisig but don't want the cholesterol which is unavoidable if you are eating pork, then switching to a healthier fish version is your best option. Cooking bangus sisig is as easy as cooking pork sisig but the only tedious part is deboning the bangus since the spiny fish bones are many unlike other kinds of white flesh fish like tilapia or cream dory.
But if are able to purchase boneless bangus fillet or bangus belly, I think fifty percent of the work is already done compared to deboning the fish yourself. Also, if you notice the way the bangus is prepared in this recipe, unlike most of the bangus sisig recipes you will find, the fresh bangus fillet is cut into chunks then grilled. This way, the sisig is more presentable and palatable compared to frying the fish first and flaking it which will make the fish meat dry. You will discover that after cooking this bangus sisig in this blog. This bangus sisig here is a Kapampangan version of sisig and does not contain eggs or mayonnaise, only very basic ingredients but you will be surprised how tasty it is.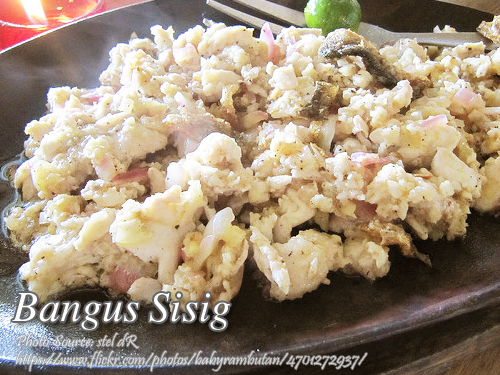 Print Recipe
How to Cook Sizzling Bangus Sisig
This sizzling bangus sisig is an authentic Kapampangan version of fish sisig. A delicious and healthy version of sisig because it is not made of pork or beef and does not contain mayonnaise or eggs..
Servings:
2
to 3 servings
Ingredients
1/2

kilo boneless bangus fillet

chill then cut into chunks

200

grams

chicken livers

2

pcs small white onions

chopped

1

red onion

chopped

10

pcs calamasi

extract the juice

1

pc green chili peppers

siling haba, slice diagonally

1

tsp.

sea salt

1/4

tsp

ground black pepper

1 to 2

Tbsp.

margarine
Instructions
How to cook Sizzling Bangus Sisig:
Prepare the bangus fillet by slicing the back of the bangus an spreading it like a butterfly. Just like when you are making daing na bangus. (If you can buy boneless bangus or boneless bangus belly, it will save you time.)

Then remove the skin and backbone. Then debone the bangus fillet. Chill for 1 to 2 hours and cut it into chunks. Lightly salt the chicken livers also before cooking.

Heat up a non-stick stove top grill and brush with 1 tablespoon cooking oil. Grill the bangus chunks on all sides until the meat turn white and sides are brown. Transfer to a plate with paper towels to absorb excess oil. Set aside.

Grill the chicken livers until brown and cooked. Then chop it finely and set aside.

In a bowl, combine grilled chicken liver, bangus chunks, onions, green chili peppers, calamansi juice, ground pepper and salt. Toss and mix the ingredients well.

Heat a sizzling plate on a stove and put the margarine until melted and sizzling. Then place the bangus sisig mixture in the sizzling plate and toss lightly until the margarine coats all the ingredients and the onions are slightly soft and fragrant.

Turn off heat and transfer the sizzling plate with the bangus sisig on a wooden tray and serve hot.