A Delightfully Rich and Savory Filipino Dish
Discover the flavors of Filipino cuisine with this authentic pork dinuguan recipe. Dinuguan, also known as "chocolate meat" or "blood stew," is a beloved Filipino dish that combines succulent pork with a thick, savory sauce made from pig's blood. In this version, we focus on using pork belly, pork liver, and fresh ingredients to create a delectable dinuguan that is free from intestines and other innards.
With a few simple steps, you can enjoy this classic Filipino delicacy in the comfort of your own home. Cooking dinuguan is not as hard as you think. The only hard part is obtaining the pork blood which is not sold in supermarkets. You can only find it in wet markets and you have to be early on going to the market because it is usually sold out and also for you to be sure the pork blood is still fresh.
Preparation:
Before we dive into the cooking process, it's important to note that obtaining fresh pork blood may require a visit to the local wet market. Make sure to arrive early to secure this crucial ingredient and ensure its freshness. With that said, let's get started!
Cooking the Pork
To begin, cook the pork belly in approximately three cups of water for 30 minutes. This initial step tenderizes the meat and allows it to absorb flavors as it cooks. Once done, allow the pork to cool before slicing it into bite-sized cubes. Set aside the meat stock for later use.
Sautéing the Aromatics
In a wok or kawali, heat a small amount of oil and sauté the garlic and onions for five minutes until they turn fragrant and translucent. This process enhances the overall taste of the dinuguan, infusing it with delightful aromas.
Adding the Pork and Liver
Next, add the previously cooked pork belly and pork liver to the sautéed garlic and onions. The pork liver brings a rich and distinct flavor to the dish, complementing the pork belly beautifully. Season the mixture with patis (fish sauce), MSG (optional), and salt, adjusting the flavors to your preference.
Introducing the Vinegar
Pour in the vinegar and allow the mixture to come to a boil without stirring. This step is crucial as it helps to tenderize the pork liver and adds a tangy element to the dish. Allow the flavors to meld together as the vinegar evaporates slightly.
Simmering with Meat Stock
Now it's time to incorporate the meat stock that was set aside earlier. Gently pour it into the wok or kawali and let the mixture simmer for approximately 10 minutes. This simmering process allows the flavors to deepen and meld, resulting in a more robust and satisfying dinuguan.
Adding the Essential Component – Pig's Blood
Here comes the star ingredient! Add the pig's blood to the simmering mixture, stirring occasionally as it thickens. The pig's blood gives dinuguan its signature dark color and velvety texture. Allow the sauce to thicken to your desired consistency.
Infusing Flavor and Heat
To enhance the taste profile, add oregano and green chili to the simmering dinuguan. These ingredients impart a subtle herbal note and a hint of heat, taking the dish to another level of deliciousness. Let the dinuguan simmer for an additional five minutes to ensure the flavors meld together harmoniously.
Final Thoughts:
Congratulations! You have successfully prepared a scrumptious pot of pork dinuguan. This authentic Filipino dish offers a unique and satisfying culinary experience, showcasing the rich flavors of pork belly, pork liver, and the essential pig's blood sauce. Serve it hot alongside steamed rice or rice cakes for a complete meal that will surely delight your taste buds.
Enjoy the rich, savory goodness of this classic Filipino recipe and share the joy of dinuguan with your loved ones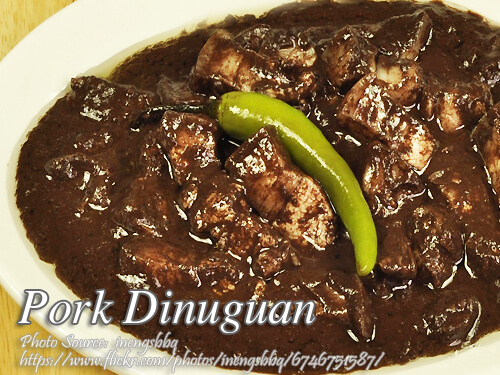 Print Recipe
Pork Dinuguan Recipe
This pork dinuguan recipe I have here is for those who loves to eat dinuguan but dislike eating the intestines and other innards mixed in the traditional pork dinuguan dish.
Ingredients
1/2

kilo

pork

liempo or pork belly

2

Tbsp.

cooking oil

2

cloves

garlic

chopped

1

pc

medium sized onion

sliced

2

cups

pork liver

sliced into cubes

1/2

cup

vinegar

2

Tbsp.

patis

1

Tbsp.

salt

1/4

Tbsp.

MSG

1-1/2

cup

pork meat stock

1

cup

pig's blood

2

tsp.

sugar

3

pcs.

green chili peppers

(siling haba)

1/4

tsp.

oregano
Instructions
How to Cook Pork Dinuguan:
Cook the pork in approximately 3 cups of water for 30 minutes.

Let it cool then slice the pork into cubes. Set aside the meat stock.

In a wok or kawali, sauté the garlic and onion in oil for 5 minutes.

Then add the pork, liver, patis, MSG and salt.

Then pour in the vinegar and boil without stirring.

Afterwards pour in the meat stock and simmer for 10 minutes.

Add the pig's blood and sugar and stir occasionally until the mixture thickens.

Put the oregano and green chili then let it simmer again for 5 minutes.
Notes
Cooking Tips for Pork Dinuguan:
Fresh Ingredients: When preparing pork dinuguan, it's essential to use fresh ingredients, especially the pork belly, pork liver, and pig's blood. Ensuring the quality and freshness of these components will greatly impact the flavor and overall enjoyment of the dish.
Balancing the Flavors: Achieving a well-balanced flavor profile is key to a delicious dinuguan. While following the recipe, pay attention to the amounts of vinegar, salt, and seasonings you add. Taste as you go and adjust these ingredients to suit your personal preference, whether you prefer a slightly tangier or more savory dinuguan.
Simmering for Optimal Flavor: Allow the dinuguan to simmer for an adequate amount of time. This process allows the flavors to develop and meld together, resulting in a more robust and satisfying dish. Simmering also helps to thicken the sauce and ensures that the pork and other ingredients are cooked through properly.