Cream dory are now commonly seen in supermarkets unlike many years ago. But the cream dory fillet you see most of the time is not actually the name of the fish where the fillet comes from. But it is actually pangasius, an ornamental fresh water fish, commonly named as hammer head shark by hobbyist. My uncle has many of it on his small pond with the koi and other tropical fishes when I was ten years old. That time we didn't know that it can be eaten and because we have them as pets.
Kaffir lime is native to indochina like India, Malaysia, Thailand, Bangladesh and the Philippines. Although this fruit is native in the Philippines, I think not everyone in the Philippines know about it, like myself. Because it is not used or know in Luzon. But in the regions of Mindanao,  the kaffir lime fruit is usually used. The leaves are commonly used in Thai cuisine because of it's aromatic properties. It also helps to reduce the fishy odor of fish dishes like the one we have here, the cream dory fillet with kaffir lime leaves.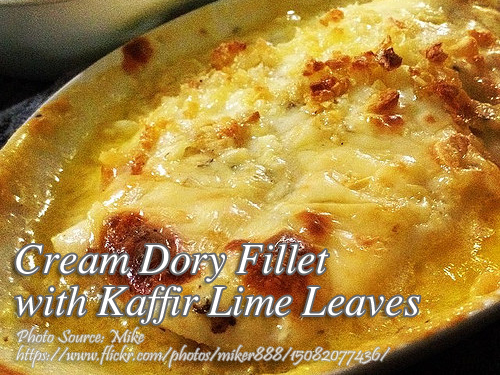 Print Recipe
How to Cook Cream Dory Fillet with Kaffir Lime Leaves
Ingredients
1

kilo cream dory fillet

6

pieces

Kaffir Lime leaves

1

Tbsp.

Japanese bread crumbs

1

medium sized red onion

chopped

2

Tbsp.

oyster sauce

1

Tbsp.

liquid seasoning

1

tsp.

sesame oil

1

tsp.

onion powder

50

grams

unsalted butter
Instructions
How to cook Cream Dory Fillet with Kaffir Lime Leaves:
Cut cream dory into 2 inch slices steaks.

Place in a deep tray or any container that will fit the cream dory steaks.

Put all the ingredients on the fillet and let it marinade for about 15 minutes.

In a wok, melt the butter and add the fillet.

Add 1/2 cup water and bread crumbs then simmer for about 15 minutes or just enough to make the fillet firm.

Adjust seasoning as needed.

Then transfer to a serving dish and garnish with slices of tomatoes and parsley.