Are you looking for tasty heavy breakfast with pork tocino and fried rice with fried egg on the side? But you are pondering the guilt of eating pork meat again…….hmmm….I think a lighter version of  tocino is what you need and here it is, the chicken tocino. Very simple to make and only needs ingredients found in your kitchen pantry or a short distance to a small grocery store. There is also no complicated steps and cooking procedures to follow. Just mix the ingredients and cure the meat just like marinating the meat when preparing to marinate a chicken barbecue. Since this recipe is home made, I didn't include curing salt or salitre which is used as a preservative to prolong the shelf life and if you are planning to sell it. The sugar and pineapple juice will serve as a curing agent and preservative as well.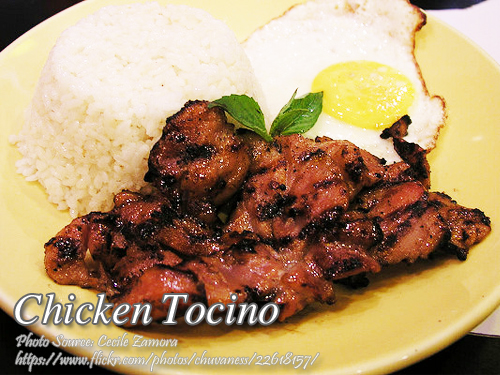 Print Recipe
How to Make Chicken Tocino
I think a lighter version of  tocino is what you need and here it is, the chicken tocino.
Servings:
2
to 3 servings
Ingredients
1/2

kilo

boneless chicken breast

sliced

1/3

cup

brown sugar

1/4

cup

pineapple juice

1/2

tsp.

refined salt

1/2

tsp.

ground black pepper

2

Tbsp.

tomato catsup

annato powder or red food coloring

optional
Instructions
How to make Chicken Tocino:
Pound the chicken breast to tenderize. Then slice it into serving pieces or your desired sizes.

In a mixing bowl, combine chicken, sugar, pineapple juice, salt, pepper, catsup and annato powder. mix well to combine the meat with the curing mixture.

Transfer the chicken with the curing mix in a container with lid or a zip bag. Refrigerate overnight to cure the meat.

To cook the chicken tocino, you can fry it straight in the frying pan with at least 4 tablespoons of oil. Fry the tocino for at least 3 minutes on each sides on medium heat or until brown.

Or you also boil the tocino with small amount of water with the marinade until the liquid evaporates and the meat is tender. Then add some cooking oil and fry until it caramelized. Serve with fried rice and fried egg for breakfast.
Video
Watch the Video on How to Cook Chicken Tocino: