This chicken liver steak or chicken liver bistek is a variation of the famous beef bistek. Although there are other versions of bistek like the pork bistek or chicken bistek, this dish uses chicken liver instead of the chicken meat. Not all are fond of eating chicken liver because it is bitter and sometimes has a gamy taste if not properly cooked. But you can lessen the bitter taste by removing the blood from the liver by washing it properly and soaking it in brine so that the blood will flow from the liver to the brine. You can also soak the liver in buttermilk or milk to get rid of the blood. When it comes to cooking this dish, well it is easy and there is no need of a special skill to cook it.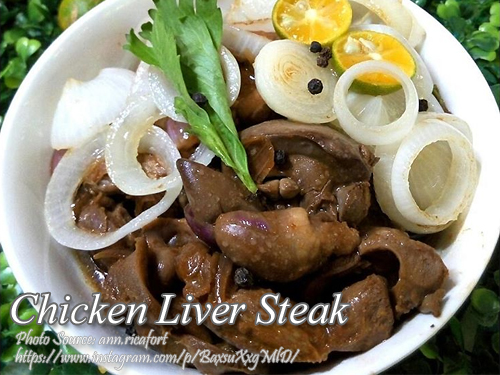 Print Recipe
How to Cook Chicken Liver Steak (Chicken Liver Bistek)
Ingredients
500

grams

chicken liver

1

head garlic

peeled and minced

1/4

cup

soy sauce

4

pcs calamansi

extract the juice

2

medium sized white onions

slice into rings

1

tsp.

ginger

julienne

1/2

tsp

ground black pepper

4

Tbsp.

cooking oil

2

stalks of spring onions

chopped (optional)
Instructions
How to cook Chicken Liver Steak:
In a bowl, combine calamansi juice, soy sauce, minced garlic, ground pepper and ginger. Mix the ingredients.

Wash the chicken liver in running water and remove the bile and blood then soak in brine for a few minutes (water with salt) then drain in colander until it is pat dry.

Add the chicken Liver in the marinade and marinate in the mixture for 1 hour or more.

in a pan, heat oil at low fire. Then put the marinated liver in the pan, fry on both sides but do not over cook, set aside.

On the same pan add the onions and saute until soft. Reserve some for garnishing. Then add the liver and the marinate mixture in the same pan and simmer it until the sauce thickens.

Garnish with onions, spring onions and serve with fried rice.