Bopis commonly use pig's internal organs like lungs, spleen and heart and chopped in small pieces and cooked. But this recipe I have use beef innards, the same as the pig's innards as I've mentioned above.
Since the process of cooking this dish is a bit tricky and you have to get rid of the smell, not everyone is fond on cooking this dish. It has to be spicy and cook it almost dry. But many still loves the exotic taste of this dish and I'm one of them.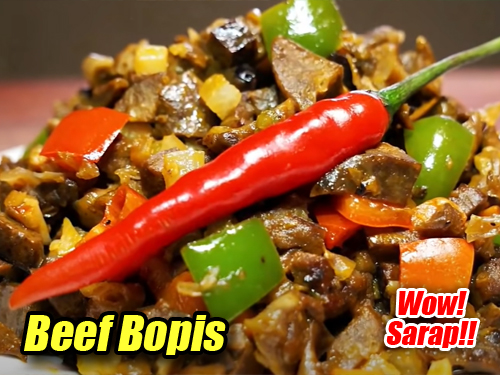 Print Recipe
How to Cook Beef Bopis
This bopis recipe uses beef innards such as heart, lungs, liver and spleen then chopped finely then cooked with vinegar and spices.
Ingredients
1/2

kilo beef internal organs for bopis

lungs, spleen and heart

1

medium size carrot

diced finely

1

medium size raddish

diced finely

1

big can button mushroom

diced finely

2

Tbsp.

black pepper

coarsely ground

1

red bell pepper

diced finely

1/2

head garlic

minced

1

medium size onion

chopped

1/4

cup

annatto in oil

2-3

pieces

red bird eyes chili or siling labuyo

chopped

3/4

cup

vinegar

cooking oil

salt to taste
Instructions
How to cook beef bopis:
Wash the beef lungs, spleen and heart thoroughly and drain.

Then put the internal organs on a big pot and add water just enough to cover.

Bring to a boil and simmer for at least 25 to 30 minutes.

Remove from the pot and drain. Set aside and let it cool or a while.

Then dice the bopis set finely and set aside again.

On a big wok saute garlic and onion and let it brown a little.

Then add the diced bopis and stir fry for 3 to 5 minutes or until the liquid evaporates.

Add the vinegar and simmer for at least 2 to 3 minutes.

Then add the patis, black pepper and the annato oil and stir fry for another 2 to 3 minutes.

Pour 3 cups of water and let it simmer for at least 3 to 5 minutes again.

Then add in the siling labuyo, raddish, carrots and mushroom then simmer again for another 3 to 5 minutes.

When the broth has almost evaporated add season with salt until the desired taste is achieved.

And last but not the least, add the bell pepper and cook for another minute.

Serve hot on a serving dish or in a sizzling plate.