Aristocrat restaurant is a well-known Filipino restaurant chain that has been serving up delicious, authentic Filipino cuisine since 1936. One of its most popular dishes is Java rice, a tasty and flavorful side dish that is a staple of Filipino cuisine. In this blog, we'll take a closer look at how Aristocrat's Java rice is made and why it's so beloved by customers.
What is Java Rice?
Java rice is a Filipino dish made by mixing cooked rice with annatto oil or achuete oil. This gives the rice its signature yellowish-orange color and a unique, slightly sweet flavor. The dish is a popular side dish and is often served with various meat dishes, such as chicken barbecue, pork adobo, or beef steak. Java rice is a must-try for anyone looking to experience the flavors of traditional Filipino cuisine.
How is Aristocrat's Style Java Rice Made?
To make the java rice, the restaurant starts by cooking the rice until it's fully cooked and fluffy. Then, they mix in the annatto oil or achuete oil, which is made from the seeds of the annatto tree. The oil is heated in a pan with garlic and onions until it becomes fragrant and the color is evenly distributed. This mixture is then added to the rice and mixed thoroughly to ensure that the rice is coated evenly with the oil and the color is consistent throughout.
What Makes Aristocrat's Java Rice So Delicious?
There are several factors that contribute to the deliciousness of Aristocrat's Java rice. First, the use of annatto oil or achuete oil gives the rice a unique and slightly sweet flavor that sets it apart from regular rice. The combination of the oil with the garlic and onion also adds a subtle depth of flavor that enhances the overall taste of the dish.
Additionally, Aristocrat's Java rice is always cooked fresh to order, ensuring that it's always hot and fluffy when it arrives at the table. The rice is never overcooked or undercooked, and it's always served with a generous portion size.
Finally, the Java rice is a perfect complement to many of Aristocrat's meat dishes. The sweet and slightly savory flavor of the rice pairs perfectly with the rich and savory flavors of the chicken barbecue or pork adobo, creating a delicious harmony of tastes and textures on the plate.
Aristocrat's style Java rice is a must-try for anyone who loves Filipino cuisine or is looking for a unique and delicious side dish to add to their meal. Made with fresh, fluffy rice and flavored with the unique and slightly sweet taste of annatto oil or achuete oil, it's a dish that's sure to please. Whether you're dining in at one of Aristocrat's many locations throughout the Philippines or ordering takeout, be sure to add Java rice to your order and experience the deliciousness for yourself.
NOTES ON THE INGREDIENTS:
Annatto seeds
Are the key ingredient in this Java rice recipe, providing the dish with its distinctive color and slightly sweet flavor. The seeds are sourced from the annatto tree, which is native to tropical regions of Central and South America. The seeds are high in antioxidants and have been used for centuries in traditional medicine.
Cooked rice
Is a staple ingredient in many dishes, including the Java rice. Rice is a good source of carbohydrates, fiber, and some essential nutrients like magnesium, phosphorus, and B vitamins. The type of rice used in Java rice can vary, but the most common type used is white rice. After the rice is cooked until it's fluffy, it's mixed with annatto oil or achuete oil to give it its signature color and flavor. Overall, cooked rice is an essential ingredient in many cuisines and serves as the perfect base for dishes like Java rice.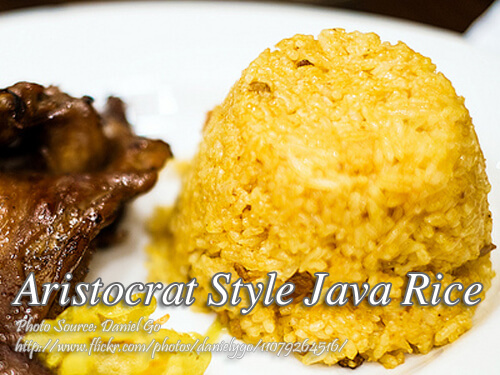 Print Recipe
How to Cook Java Rice Aristocrat Style
The only kind of rice I'm craving to eat with barbecued pork or chicken is the java rice. It can also be great with other grilled stuffs like grilled fish or seafoods.
Ingredients
4

cups

cooked rice

overnight rice is better

2

Tbsp.

melted butter or margarine

2

Tbsp.

cooking oil

1/2

tsp.

annatto

atsuete powder or 1 Tbsp annatto seeds

3

cloves

crushed garlic

1

Tbsp

soy sauce

1

Tbsp

tomato catsup

salt and pepper
Instructions
How to cook Java Rice Aristrocrat Style:
Heat oil in a wok and add annatto powder. In case you are using annato seeds, heat the oil gently while stirring the seeds until the oil becomes orange. After 4 minutes, discard the seeds.

Adjust the heat to medium and add in the garlic and saute until slightly brown.

Add in the butter and cooked rice and stir fry for a few minutes until all the grains are coated with the annato oil and the rice becomes yellow in color.

Stir fry with a mixing motion until all the rice lumps are gone and the color is even.

In the meantime mix the tomato catsup and soy sauce in a small cup before pouring it over the rice.

Depending on your taste, you can add more soy sauce and tomato sauce.

Pour soy sauce catsup mixture over the rice and continue to stir fry until the mixture coats all the rice grains and the color is evenly distributed. Adjust the heat to high if necessary.

Season with salt and pepper while stir frying the rice. You can also garnish it with fried garlic.

Serve hot with barbecued pork or chicken or grilled fish or seafood.