A delicious healthy vegetable tuna salad that you can make anytime. All the ingredients are simple and basic and easy to find in supermarkets. All you need to create this salad are canned tune, carrots, baguio beans, pineapple tidbits, canned kernel corn and mayonnaise.
Ingredients:
1 medium (150g) carrot cut into cubes
14 pcs. (100g) baguio beans, sliced 1/4″ cross wise
1 can (439g) Del Monte Pineapple tidbits, drained ( reserve syrup )
1 can (432g) whole kernel corn, drained
1 can (170g) Del Monte regular tuna chunks in oil, drained
3/4 cup mayonnaise
1 and 1/2 teaspoon iodized salt
1/8 teaspoon pepper
How to make Tuna Vegetable Salad:
Cook carrot and baguio beans in pineapple syrup until tender but still crunchy. Drain.
Combine with other ingredients. Blend thoroughly.
Chill until ready to serve.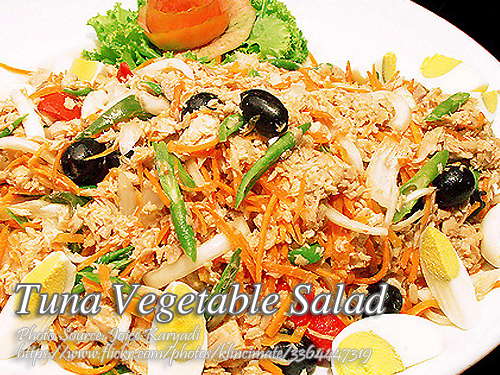 Try Other Recipes :
Pineapple Bistek

A quick delicious beef recipe for those who are always in a hurry. This bistek recipe is tro ...

Winged Bean Salad (Ensaladang Sigarilyas)

This four cornered vegetable pod is also known as sigarilyas or winged bean or asparague bea ...