This beef short ribs recipe is easy to cook. Just marinate with the ingredients below and grill or broil.
Ingredients:
1 kilo Beef short ribs
1 cup soy sauce
1/4 cup sesame oil
2 tablespoons spring onions, chopped
1/2 cup sugar
2 tablespoons toasted sesame seeds
1 teaspoon ground black pepper
How to cook Short Ribs Sweet Style:
Before marinating your beef short ribs, score an "X" mark in the meat portion, cutting almost to the bone.
To prepare the marinade, combine all ingredients and mix until sugar is completely dissolved.
Pour over beef short ribs, turning them occasionally to coat them evenly.
Marinate for at least two hours before cooking.
Grill marinated beef short ribs over live coals or broil until done as desired.
Baste with marinate while grilling once or twice on each side. Serve.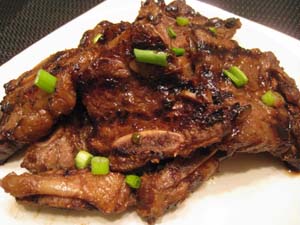 Try Other Recipes :
Spareribs With Catsup

An easy spareribs dish without baking or broiling. All you have to do is fry the ribs then sim ...

Tondo Tondo

Tondo tondo is usually served with sinigang. It also makes an interesting cocktail dish and a ...