Paksiw na Salmon
Ingredients:
1/2 kilo salmon steak (about 2 large or 4 medium pcs)
3 pieces finger chilies (siling pangsigang), sliced or whole
1 cup Vinegar
1 tbsp whole peppercorn, lightly crushed
1 small ampalaya, sliced
1 cup water
1 medium onion, sliced finely
2 tbsp olive oil
1-2 cloves garlic
Patis (fish sauce), to taste
1 thumb size ginger, sliced thinly
How to cook Paksiw na Salmon
Rub a little salt on salmon.
Put salmon, Datu Puti Vinegar, ampalaya, onion, garlic, ginger, chilies, and peppercorns in a stewing pan. (Best if non-metal.)
Without stirring, bring the vinegar to boil. Add water, and simmer.
Add oil when broth has thickened slightly. Flavor with some Datu Puti Patis to complement the Vinegar.
Serve next day for best taste! Serves 4.
Preparation and cooking time: 25-30 minutes
Cooking Tip:
The best cooking pot for paksiw is an enamel pot or palayok. Metal clashes with the acid and produces a slight metallic note. Paksiw is usually served cold and a day after it is cooked. It always taste better this way!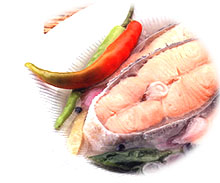 < See More Saltwater Fish Recipes