Left over lechon can be turned into another delicious dish. So try recipe if you have some left over lechon in your fridge.
Ingredients:
1 kilo cooked lechon
1 cup ready-mixed sauce or 1 can liver spread
1 cup vinegar
1/2 cup brown sugar (pack)
1 tbsp salt
1 tbsp peppercorn (whole)
4 cloves garlic, crushed
1 teaspoon vetsin
1/2 cup dried oregano
1 cup water
How to cook paksiw na lechon:
Chop lechon into small serving pieces. Put in pan and add all ingredients.
Boil. Lower heat and simmer until lechon skin becomes very soft and sauce thickens.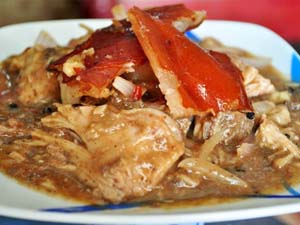 Try Other Recipes :
Lechon Kawali and Liver Sauce

One of the well known and favorite Filipino dish is lechon kawali. I'm not sure why it is ca ...

Lechon de Leche (Roasted Pig) Recipe

Want something special to celebrate Christmas or New Year? Then I think a roasted pig or lec ...