Another tasty version of lechon kawali with a cucumber vinegar sauce. But you can use any kind of dipping sauce if you want like lechon sauce or ketchup. I think this lechon kawali is not much different to the usual lechon kawali that you used to cook. I just added some lemon grass on the pot together with the spices and aromatics when boiling the pork belly slabs until tender. It does really improve the aroma and the taste when you include lemongrass in meat dishes as it helps reduce the gamy taste and odor of meat. And regarding the dipping sauce, the addition of cucumber to the vinegar make the dipping sauce appetizing because it enhances the flavor of fried and grilled meat specially the Pinoy barbecue on bamboo sticks skewers. Try it! I'm sure you are going to love it!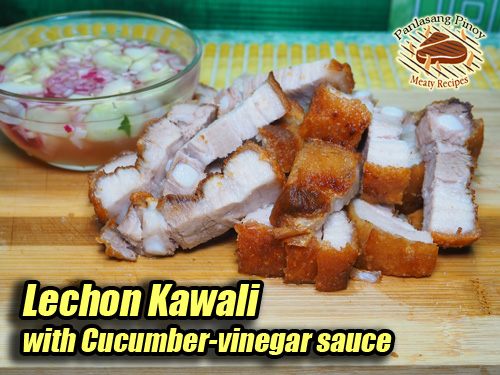 Print Recipe
How to Cook Lechon Kawali with Cucumber-Vinegar Sauce
Ingredients
1 & 1/2

kilo

pork belly slab

2

stalks

of lemon grass

tied into a knot

2

Tbsp.

salt

1

Tbsp.

whole black peppercorns

3

pcs

bay leaves

4

cloves

garlic

crushed

fine salt for rubbing the pork

water for boiling

vinegar for brushing the skin

3 to 4

cups

cooking oil for deep frying
For the Vinegar-Cucumber dipping sauce:
1/2

cup

palm vinegar

1

piece

red onion

chopped

1/2

cup

sliced cucumber

1

Tbsp.

sugar

1/4

tsp.

salt

1/4

tsp.

black pepper powder

optional
Instructions
How to Cook Lechon Kawali with Cucumber-Vinegar Sauce
Wash and drain the pork belly slab. Remove hairs in the skin by using a shaving razor or sharp knife.

Fill the large pot with water just enough to cover the meat. Bring to a boil then add in lemon grass, garlic, black peppercorns, salt and bay leaves.

Put the pork belly slab into the pot and let it boil in medium heat for 1 to 1 & 1/2 hours or until the pork is tender.

Remove from pot and drain in a colander. Set aside and let it cool down.

Poke the skin with a fork and brush with vinegar then let it dry. Rub with fine salt the skin and the entire surface of the pork.

Heat cooking oil in a pot deep enough to fry the pork belly slab. Fry the pork until golden brown then remove from oil and drain in a colander. Let it cool for 10 minutes.

Then heat the oil again and re-fry the pork belly until golden brown and the skin is crispy.

Remove from oil and let it cool. Then slice the lechon kawali and serve with cucumber-vinegar dipping sauce.

To make the dipping sauce: Combine all the ingredients in a bowl and stir until the sugar is dissolved.