Ingredients:
3 medium bangus (cleaned, scaled and halved)
4 pcs  long green peppers
2 small ampalaya, quartered
2 cups vinegar
2 small eggplants, quartered
1 cup water
1 small ginger, crushed
1 tsp patis ( fish sauce )
How to cook Paksiw Na Bangus
Arrange vegetables at the bottom of casserole.
Add bangus, ginger and long green peppers. Pour in vinegar.
Let boil. Lower heat and add in water.
Let simmer until fish is cooked. Season with patis and serve.
TIP:  Vinegar decreases the risk of microorganism contamination. Thus, food with sufficient vinegar are least likely to be suspect in food poisoning.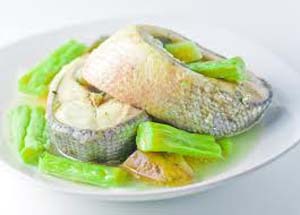 Try Other Recipes :
Paksiw na Salmon

Ingredients:1/2 kilo salmon steak (about 2 large or 4 medium pcs) 3 pieces finger chili ...

Bangus Nilagpang Recipe

Ingredients:1 medium bangus (Milk Fish), cleaned, salted and broiled 3 pieces tomatoes, ...