Ingredients
2 cup diced pork
1 cup diced liver
3 potatoes, diced
1/2 cup garbanzos
1/2 cup raisins
3 medium-sized tomatoes
3 segments garlic, pounded
1 onion, sliced
1/2 cup diced red and green pepper
1/2 tsp. (pimenton) paprika
2 tablespoon lard
salt to taste
vetsin
How to cook menudo:
Cook pork in water until tender. Dice. Saute garlic, onion, and tomatoes in lard.
Add pork and liver and continue sauteing for 5 minutes. Add water, salt, and pimentos.
Then add potatoes, raisins, red and green pepper, and cooked garbanzos.
Cook until potatoes are done. Season to taste. Good for 6 to 8 persons.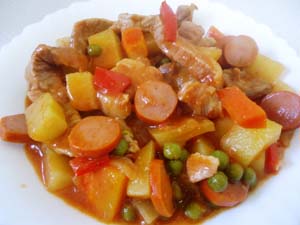 Try Other Recipes :
Oxtail Menudo (Menudo Sulipeña)

Oxtail menudo is a Spanish dish called "Menudo Sulipeña". Most dishes we have now have Spani ...

Pork Asado Recipe

Ingredients 1 kilo pork 2 large potatoes, peeled and divided into 6 1 large onion, peel ...