Ingredients:
1 pc regular-sized duck
2-1/4 c water
2 Tbsp. rock salt
1 thumb-size ginger sliced
1 stalk celery sliced 1 inch-size
2 cup cooking oil
Sauce
1/2 tsp. cornstarch
1/4 cup water
3 Tbsp. vinegar
1 Tbsp. sugar
2 pcs hot chili pepper
1 tsp. salt
Clean duck very well. Simmer duck in water, salt, ginger and celery stalk for about 1-1/2 hours or until tender.
Drain and dry in paper towel.
Deep fry in hot oil until golden brown. Serve hot with sauce.
Combine all sauce ingredients in a sauce pan.
Simmer while stirring continuously, until sauce thickens. Serves 6.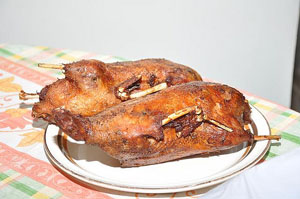 Try Other Recipes :
Duck Asado

A delicious and easy to cook native duck asado or asadong itik. In fact you can cook it on a ...

Kalderatang Itik (Duck Caldereta)

Next to the favorite Filipino duck recipes is the kalderatang itik or duck calderata. The du ...