Ingredients:
1.5 kgs. whole maya-maya
10 grams garlic, minced
20 grams onion, chopped
20 grams ginger, sliced or julienned
30 grams red and green bell pepper, julienned
10 grams yellow ginger, juiced
1 cup vinegar
100 grams sugar
300 grams grated green papaya
Salt and pepper to taste
How to cook Escabecheng Maya-Maya
Season fish with salt and pepper. Fry fish in oil and keep warm.
Saute garlic, onion and ginger. Stir for 2 minutes.
Add red and green bell pepper, yellow ginger juice, vinegar, sugar and grated green papaya.
Simmer for 5 minutes. Season with salt and pepper.
Arrange fish on an oval platter. Pour sauce over it.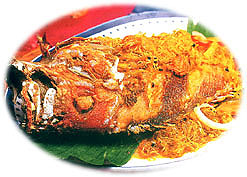 < See More Saltwater Fish Recipes
Try Other Recipes :
Roasted Maya-Maya (Red Snapper) with Vegetables

Roasted maya-maya or red snapper is a simple yet elegant dish. The wine and lemon adds conti ...

Steamed Maya-Maya (Red Snapper)

Steamed maya-maya, which is also known as red snapper in English, is a simple tasty steamed ...