Ingredients:
1/2 kilo chicken liver (halved)
2 tbsp. oil
1 big onion (thinly sliced)
1 clove garlic (minced)
2 tbsp. soy sauce
1/2 tsp. salt
1 tbsp. chopped parsley
pinch of pepper
How to cook guisadong atay ng manok:
Wash chicken liver very well and place in a strainer to remove water.
In hot oil, sauté garlic, onions, and chicken liver for 2 minutes.
Add soy sauce, salt, and pepper and cook for 6-8 minutes more over medium heat.
Sprinkle with parsley. Serve hot. Good for 6 persons.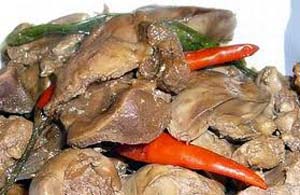 Try Other Recipes :
Pritong Atay ng Manok (Fried Chicken Livers)

Fried chicken liver or pritong atay ng manok should be breaded or batter coating so it will ...

Beef Liver Steaks with Onion Rings (Guisadong Atay ng Baka)

This beef liver steaks is a very simple dish, marinating the liver in soy sauce and calamans ...