This is simple fish sinigang recipe made with tilapia fish and the souring agent used is tamarind. The cooking procedure is as simple as the other fish sinigang you can find. Unlike other meat based sinigang, the cooking time is very short and only requires 2 to 3 minutes specially if it is only fish fillet. I think this is the cheapest fish sinigang you can make since tilapia, compared to other fishes, is abundant and you can see it almost everyday in the wet market.
There are different breeds of tilapia if you are not aware of and my suggestion is choose the ones that does not taste muddy or too fishy. Since this dish is a soup, it will be very unpleasant if you get the kind of tilapia that taste muddy. And for you to make the rice wash, it is just simply getting the water from the raw rice while washing it. But first discard the first washing. The second and third will be used.
A Flavorful and Easy Fish Soup Recipe
Are you craving a delicious and satisfying fish dish? Look no further than Sinigang na Tilapia. This classic Filipino recipe features tilapia fish cooked in a tangy tamarind-based broth, resulting in a flavorful and comforting soup. In this blog post, we'll guide you through the simple steps of preparing Sinigang na Tilapia, allowing you to enjoy this delightful dish in the comfort of your own kitchen. Get ready to savor the unique blend of sourness and umami flavors!
Choosing the Freshest Tilapia:
To ensure the best taste and quality for your Sinigang na Tilapia, it's important to choose the freshest fish. Look for tilapia with clear eyes, shiny scales, and a fresh oceanic smell. Opt for varieties known for their mild and clean taste, avoiding fish that may have a muddy or overly fishy flavor.
Preparing the Flavorful Broth:
To start, create a flavorful broth by boiling rice wash. This serves as the base for your Sinigang na Tilapia. Add onions, tomatoes, and ginger to infuse the broth with their aromatic flavors. Then, incorporate tamarind fruit, allowing it to soften and impart its tangy taste to the broth. Extract the tamarind juice by crushing the fruit and straining it directly into the pot, discarding the seeds and peel.
Cooking the Sinigang:
Once the broth is ready, add tilapia fillets and radish to the pot and bring it to a boil. The fish and vegetables will cook in the flavorful broth, absorbing the tangy and savory flavors. Enhance the taste by adding siling haba (long green chili) for a hint of heat, kamote tops (sweet potato leaves) for freshness, patis (fish sauce) for additional umami, and pepper for a touch of spice. Cover the pot and allow the soup to boil for a few minutes until the fish and vegetables are cooked through.
Wrap-Up:
Congratulations! You've successfully prepared a pot of delicious Sinigang na Tilapia. The delicate flavors of tilapia, combined with the tangy tamarind broth and fresh vegetables, create a delightful and nourishing dish. Serve it hot with steamed rice for a satisfying meal that celebrates the flavors of Filipino cuisine. Don't forget to share this recipe with your family and friends, and enjoy the heartwarming experience of Sinigang na Tilapia together.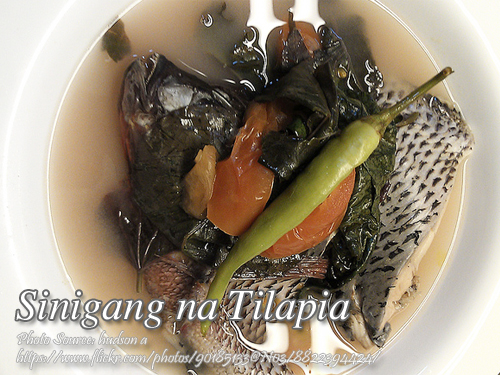 Print Recipe
How to Cook Sinigang na Tilapia
This is a recipe of sinigang na tilapia
Ingredients
1

kilo

tilapia

cleaned, scales and innards removed and cut into 2 pcs each

3

pcs

tomatoes

quartered

1

pc

onion

quartered

2

pcs

green chilies or siling haba

1

pc

thumb sized ginger

sliced

150

grams

sampalok

tamarind fruit

3/4

cup

talbos ng kamote

sweet potato leaves

3

Tbsp.

patis or fish sauce

1

pcs

small radish

slice diagonally

6

cups

rice wash or rice water

pepper to taste
Instructions
How to cook Sinigang na Tilapia:
In a pot, bring the rice wash to a boil. Then put the onions, tomatoes and ginger. Boil for another 2 minutes and cover.

Then add the tamarind fruit and boil again for another 2 minutes or until the tamarind is soft. Remove from the pot and put in a small bowl. Press the tamarind using a spoon to crush the fruit.

Get some soup from the pot and pour on the tamarind. Extract the juice from the tamarind while pressing the fruit in the strainer directly above the pot. Discard the seeds and peel. Then add the tilapia and radish in the pot and bring to a boil.

While the soup is boiling add in the siling haba, kamote tops, patis and pepper. Cover and boil for another 3 minutes or until done. Serve hot.
Notes
Cooking Tips of Sinigang na Tilapia:
Choose Fresh and Clean-Tasting Tilapia: When making Sinigang na Tilapia, opt for tilapia varieties known for their mild and clean taste. Look for fish that has clear eyes, shiny scales, and a fresh oceanic smell. Avoid varieties that taste muddy or overly fishy, as they can affect the overall flavor of the dish.
Use Tangy Tamarind for Authentic Flavor: Tamarind is the key ingredient that provides the distinct tanginess in Sinigang na Tilapia. Use fresh tamarind fruit or tamarind concentrate to achieve an authentic and flavorful broth. The sourness of the tamarind balances well with the other ingredients, creating a deliciously tangy soup.
Enhance with Fresh Vegetables: To add freshness and texture to your Sinigang na Tilapia, include a variety of vegetables such as radish, kamote tops (sweet potato leaves), and siling haba (long green chili). These vegetables not only complement the flavors of the dish but also provide additional nutritional value. Ensure you cook the vegetables just enough to retain their vibrant color and crispness.