Tocino or pork tocino is one of the popular pork dish for Pinoys but this dish, or maybe just the name was one of the Spanish influence that we inherited. Actually "tocino" is a Spanish word for "bacon" but when it comes to our cuisine, it is sweetened cured pork.
When it comes to Filipino cuisine, pork tocino is a classic dish that has been enjoyed by generations. This sweet cured pork is a popular breakfast food in the Philippines and can be served with rice, fried eggs, and tomato slices. While you can easily buy pre-packaged tocino in supermarkets, making it at home is not only healthier but also allows you to adjust the flavor to your liking.
Ingredients:
The first step in making pork tocino is to prepare the meat. You will need half a kilo of pork shoulder or kasim, sliced into 1/4 inch thick pieces. In a mixing bowl, combine brown sugar, soy sauce, garlic, red food coloring or annatto powder, pineapple juice (optional), and salt. Mix well to form a marinade.
Curing Process:
Next, rub the marinade all over the pork, making sure to cover all sides of the meat. You can either place the pork and marinade in a ziplock bag or a Tupperware container for curing. Put the container in the refrigerator and let it cure for 2 to 3 days.
Cooking:
After the curing process, you can either fry or grill the pork tocino. Heat at least 4 tablespoons of cooking oil in a pan over medium to high heat. Fry the tocino for 3 minutes on each side or until browned and cooked through. Be careful not to overcook the meat, as it can become tough and dry.
Serving Suggestions:
Once done, you can serve the pork tocino with fried rice and fried eggs for a hearty breakfast. The sweetness of the pork pairs perfectly with the saltiness of the eggs and the acidity of the tomatoes.
Customization:
Making your own pork tocino at home is a great way to enjoy this classic Filipino dish without the added preservatives and unhealthy ingredients found in pre-packaged tocino. Plus, it's a fun and easy way to get creative in the kitchen and experiment with different flavors. Try adding some spices like black pepper or chili powder to give your tocino an extra kick. You can also try using different cuts of pork to see which ones work best for you.
Wrap-Up:
Pork tocino is a delicious and easy-to-make dish that you can enjoy any time of the day. Making it at home not only ensures that you know exactly what's in your food but also allows you to customize the flavor to your liking. So why not give this recipe a try and impress your family and friends with your culinary skills?
Notes on The Ingredients:
Pork shoulder or kasim
This cut of pork is often used in Filipino cuisine as it has a good balance of meat and fat, which helps keep the meat juicy and tender. When sliced thinly, it also cooks quickly and evenly.
Brown sugar
The sweetness of brown sugar is what gives tocino its distinctive flavor. It also acts as a natural preservative, allowing the meat to last longer without the need for chemical preservatives.
Soy sauce
Soy sauce adds a savory, umami flavor to the marinade. It also helps to tenderize the meat by breaking down its proteins.
Garlic
Garlic adds a pungent flavor and aroma to the marinade. It is also believed to have several health benefits, such as boosting the immune system and reducing inflammation.
Red food coloring or annatto powder
This ingredient is optional, but it is often added to give the tocino its distinctive red color. Annatto powder is a natural food coloring made from the seeds of the achiote tree and is commonly used in Filipino cuisine.
Recipe Update: This blog post is updated with more text and added with recipe notes, notes on the ingredients and cooking tips. The calorie value is also corrected based on the calorie counter from Verywellfit.com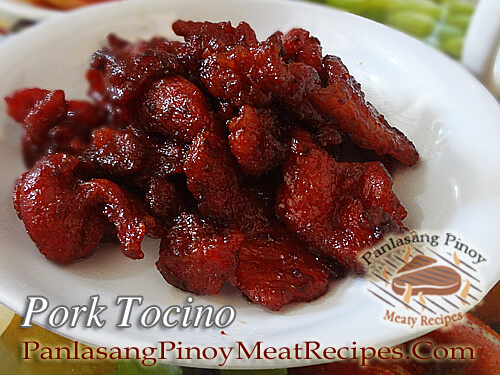 Print Recipe
How To Make Pork Tocino (Sweet Cured Pork)
Learn how to make delicious and healthy pork tocino with this easy homemade recipe. No preservatives, just natural ingredients for a classic Filipino dish.
Ingredients
1/2

kilo

pork shoulder or kasim

slice into 1/4 inch thick

1/2

cup

brown sugar

1/4

tsp

of red food coloring or annatto powder

2

Tbsp

soy sauce

2

cloves

garlic

minced

1/8

cup

pineapple juice

optional

1/2

tsp.

salt
Instructions
How To Make Pork Tocino (Sweet Cured Pork):
Combine the ingredients: brown sugar, food coloring, soy sauce, garlic, pinepple juice and salt in a mixing bowl.

Put the sliced pork in the bowl and rub the mixture liberally on all sides of the pork.

You can either use a zip bag and put all the pork and mixture or in a tupperware container for curing the pork.

Put inside a refrigerator and cure for 2 to 3 days.

After curing the pork, you can either fry or grill it. Heat at least 4 tablespoons of cooking oil.

Fry the tocino at least 3 minutes on each sides until browned on medium to high heat or until cooked.

Don't overcook because it will become too dry and tough.

Serve with fried egg and fried rice or java rice
Video
Watch the Video on How to Make Pork Tocino:
Notes
Nutrition notes:
Calorie is derived from VeryWellFit.Com recipe nutrition calculator.
Cooking Tips:
Make sure to slice the pork shoulder or kasim thinly, around 1/4 inch thick. This will help it cook evenly and quickly.

When curing the pork, make sure to use a container that can be tightly sealed, such as a zip bag or Tupperware container. This will help the meat absorb the flavors of the marinade more effectively.

If you don't have red food coloring or annatto powder, you can omit this ingredient. The tocino will still taste delicious without it.

When frying the tocino, make sure to heat the oil over medium-high heat. This will help the meat cook quickly and evenly without burning.

Don't overcook the tocino, as it can become dry and tough. Cook each side for around 3 minutes or until browned, and remove from the pan as soon as it is cooked through.