This recipe is easy to cook and it is restaurant type of dish. It is served in some Chinese restaurants or fastfood chains. Sweet and sour pork is very similar to fish escabeche or sweet and sour fish style of cooking. Cooking this dish is quite simple. First, slice the lean pork into small bite size pieces. Then boil with a small amount of water with a little salt.
Drain. Coat the pork with flour then fry until golden brown. Saute garlic and the rest of the vegetables. Saute for 3 minutes then add catsup, pineapple tidbits with syrup and broth. Season with soy sauce and MSG. Thicken with cornstarch then pour over fried pork. To see the complete recipe with list of ingredients in exact measurements, continue reading.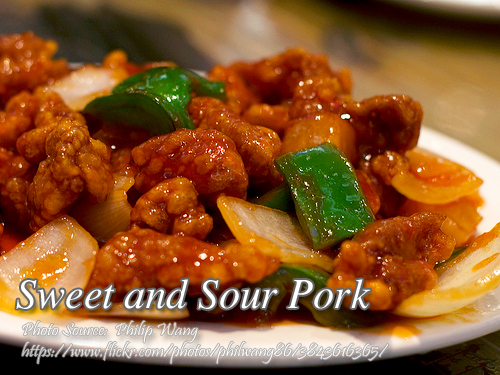 Print Recipe
How to Cook Sweet and Sour Pork
Ingredients
1/2

kilo lean pork

1

large size onion

quartered

3 to

matoes

quartered

1

carrot

strips, 2" long

2

bell pepper

red & green (strips)

2

stalks celery

1 1/2" long

3 to 4

cloves

garlic

minced

1

small can pineapple tidbits

1

cup

catsup

1

tbsp

soy sauce

1

tbsp

cornstarch

2

tbsp

flour

1

tbsp

salt

1

tsp

MSG
Instructions
How to cook Pork in Sweet Sour Sauce:
Cut pork into small serving pieces. Boil in 1 and 1/2 cup water with a little salt. When tender, drain.

Set aside broth to be used later. Sprinkle flour on pork. Fry until golden brown. Sauté minced garlic until brown.

Add altogether onion, tomatoes, celery, carrot, and pepper strips. Stir. After 3 minutes or until half-cooked, add catsup, pineapple tidbits (with syrup), and broth.

Season with soy sauce and MSG. Do not overcook the vegetables. Thicken with dissolve cornstarch. When it boils pour over fried pork.