This is a recipe of the popular Lucban longganisa with a garlicky and sour taste unlike the usual sweet longganisa that we love to eat. This longganisa I think comes from Lucban, Quezon province that is why it is called Lucban longganisa. If you happen to visit the province, you won't miss this longganisa because it is displayed in the market places in many parts of the town.
Making this longganisa is not as hard as you think. You can even use a small plastic bottle cut in half to make a funnel then insert the sausage casing on the mouth of the bottle and put the mixture to stuff the casing. This longganisa is best served with fried egg and fried rice and a little atchara on the side.
Unlocking the Flavors of Tradition
When it comes to Filipino cuisine, the mention of longganisa instantly sparks cravings and conjures images of hearty breakfasts and comforting meals. Among the many varieties of this beloved sausage, Lucban longganisa stands out with its distinct garlicky and sour profile. Originating from the town of Lucban in Quezon province, this delectable delight is a must-try for every food enthusiast.
Embracing the Distinctive Flavor
Unlike the more common sweet longganisa, Lucban longganisa boasts a unique blend of flavors that set it apart. Its tantalizing garlicky notes are complemented by a subtle tanginess, creating a harmonious marriage of tastes that dance on your palate. This flavor profile is a reflection of the culinary traditions and local ingredients that define Lucban's gastronomic culture.
Crafting Your Own Culinary Masterpiece
Creating this delightful delicacy in your own kitchen is an endeavor well worth your time. Don't be intimidated by the process – it's simpler than you might think, and the rewards are truly satisfying.
Step 1: Preparing the Meat
Begin by removing the skin from the pork and cutting it into small, manageable pieces. If you prefer convenience, you can also opt for lean ground pork available in the market. The choice is yours.
Step 2: Flavorful Fusion
In a mixing bowl, combine the ground pork (or lean ground pork), pork fat, salt, paprika, garlic, oregano, sugar, and vinegar. Ensure that the ingredients are thoroughly mixed to achieve a uniform flavor. Allow the mixture to stand for about 30 minutes, allowing the flavors to meld and develop.
Step 3: Casings and Creation
Soak the dried hog casing in warm water for approximately 3 minutes. This softens the casings, making them easier to work with. Now comes the fun part – stuffing the casings with the flavorful meat mixture. You can utilize a funnel or a dedicated sausage stuffer for this task. As you fill the casings, tie them at intervals of 2 to 3 inches, creating the signature links of Lucban longganisa. The length of each link can be tailored according to your preference.
Step 4: Patience is a Flavor
To allow the flavors to fully develop, refrigerate the newly formed longganisa links for a minimum of 8 to 12 hours. This marinating time enhances the taste and guarantees a more satisfying eating experience.
Step 5: Savoring the Culinary Journey
The time has come to bring your culinary creation to life. Heat a pan with oil and carefully fry the longganisa until they achieve a golden brown hue. The sizzle and aroma are undeniable indicators that you're on the right track. For the perfect pairing, serve your freshly cooked Lucban longganisa with fried egg and steaming hot fried rice. Elevate the experience further by adding a side of atchara, a delightful Filipino pickled dish that perfectly balances the flavors.
A Tradition Reimagined
The culmination of your efforts results in a plate adorned with a slice of culinary history. Lucban longganisa pays homage to local traditions while inviting you to explore the nuances of flavor. With each bite, you're not just savoring a sausage; you're experiencing the essence of Lucban's rich heritage.
Final Thoughts
Embarking on the journey of crafting your own Lucban longganisa is an endeavor that promises both gastronomic delight and a deeper appreciation for the art of Filipino cuisine. As you savor the distinct garlicky and sour notes, you're connecting with a culinary heritage that has stood the test of time. So why not roll up your sleeves, gather your ingredients, and let the flavors of Lucban inspire your next kitchen adventure?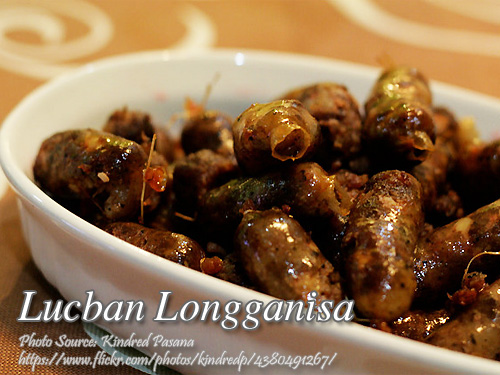 Print Recipe
Lucban Longganisa
Unveil the enticing flavors of tradition with the Lucban Longganisa recipe, fusing succulent ground pork with a blend of garlicky undertones and subtle tanginess, all encased in hog casings, delivering a taste of culinary heritage straight from Lucban, Quezon province.
Ingredients
1

kilo

ground pork

lean pork belly or pork shoulder

3

tsp.

rock salt

7

tsp.

paprika

3

Tbsp.

minced garlic

1

tsp.

dried oregano

2

tsp.

sugar

1/2

cup

cane vinegar

1/4

cup

pork fat

cut into small cubes

Dried hog casing or sausage casing

about 1 inch diameter
Instructions
How to make Lucban Longganisa:
Remove the skin from the pork and chop it in small pieces. Grind the meat using a meat grinder or just buy lean ground pork if you don't like to grind it yourself.

Combine ground pork, pork fat, salt, paprika, garlic, oregano, sugar and vinegar. Mix thoroughly until the ingredients are combined. Let it stand for 30 minutes.

Soak the dried hog casing in warm water for 3 minutes. Stuff the casing using a funnel or a sausage stuffer with the meat mixture then tie the first end and about 2 to 3 inches apart to make links of longganisa. It depends on how long you want your longganisa.

Refrigerate for at least 8 to 12 hours before cooking or you can store it in the freezer.

To cook the longganisa, fry it in hot oil until brown. Best served with fried egg and fried rice with spiced vinegar dipping sauce.
Notes
Cooking Tips of Lucban Longganisa:
Balancing Flavors: Achieve the perfect harmony of garlicky and tangy flavors by allowing the meat mixture to stand for 30 minutes before stuffing the casings, allowing the ingredients to meld and develop their distinct taste.
Casings Made Easy: Soften dried hog casings by soaking them in warm water for about 3 minutes; this simple step makes stuffing the casings with the meat mixture a breeze, ensuring your Lucban longganisa links are uniform and flavorful.
Appy Curing: Elevate the taste by hanging in a well ventilated area the formed longganisa links for at least 8 to 12 hours before cooking; this curing period not only intensifies the flavors but also guarantees a more satisfying and authentic Lucban longganisa experience.