This longganisa Tuguegarao is a non-sweet type, salty and garlicky longganisa very similar to Vigan longganisa or Lucban longganisa. It is also known as longganisang Ybanag and it is famous in the region of Cagayan Valley. When making your own longganisa or sausages, it is better if your have your own meat grinder so you can grind the correct type of meat and the proportion of lean meat to the fat. It is very important to use this technique if you want to make your longganisa either lean or with right amount of pork fat. In making longganisa or sausages, there should be at least 30 percent fat and it should be coarsely chopped or ground. If not coarsely ground, the fat will easily soften and you will have a hard hard time stuffing it into the hog casing specially if you are using a funnel or a meat grinder with a sausage stuffer nozzle. The fat will also make your longganisa tender and juicy whereas the very lean longganisa is very dry and hard.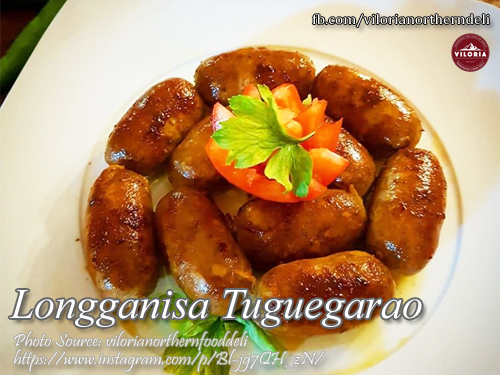 Print Recipe
How to Make Longganisa Tuguegarao
Ingredients
1

kilo pork

coursely ground (ideally with 30% fat)

1

Tbsp.

ground pepper

2

heads garlic

chopped

1

Tbsp

salt

3

Tbsp

sukang Iloko

1 1/2

Tbsp

oil cooked with 1 Tbsp. achuete seeds

discard the seeds

hog casing

cooking twine
Instructions
How to make Longganisa Tuguegarao:
If you are grinding the pork using a meat grinder, chill the pork for a few hours then chop into small pieces that will fit in the meat grinder.

Grind the pork coursely using a large hole meat grinder blade (5mm hole) and grind the pork.

Combine all the ingredients in a bowl. Mix until all the ingredients are well combined.

Using a sausage stuffer or a funnel, insert the first end of the hog casing on the funnel and fill it with the meat mixture. Divide the longganisa into 2 to 3 inch links by twisting and tie with strings.

Hang the longganisa and air dry for a few hours. Then store it in the freezer. To cook the longganisa, put a small amount of water in a pan and boil unit the liquid evaporates. Then fry with a some cooking oil until brown.