Ginisang ampalaya sa miso is a sauteed bitter melon in miso, a Japanese seasoning made with fermented soy beans with salt and fungus. That is why miso is salty and sour. Miso is used in some Filipino dishes like for example the sinigang. I think miso is a good combination with ampalaya because it counteract the bitter taste. And with regards to the bitter taste, the traditional way of removing the bitter taste is by soaking it in brine and squeezing the ampalaya. But I think the better way is to just soak it in brine and rinse in water twice. And don't stir while cooking the vegetable so it will not become bitter. Maybe there is a scientific explanation for this method (not stirring the ampalaya) rather than a superstition. If this method didn't work, then just use baking soda instead of salt when soaking the ampalaya.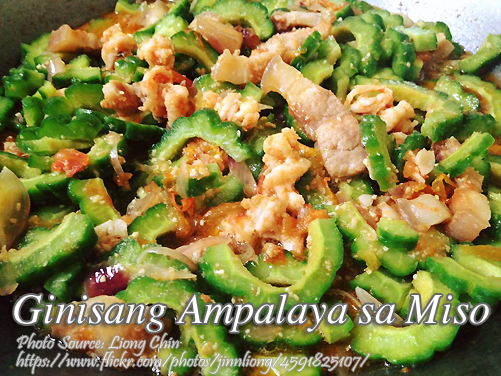 Print Recipe
How to Cook Ginisang Ampalaya sa Miso
Ingredients
1/2

kilo ampalaya

bitter gourd

100

grams

shrimps

shelled (save the head and shells)

100

grams

pork belly

cut into smalle cubes

1

onion

sliced

2 to

matoes

sliced

3

cloves

garlic

minced

1/4

cup

miso

2

Tbsp.

patis

1

tsp.

MSG or granulated seasoning

2

Tbsp.

cooking oil

1

cup

water
Instructions
How to Cook Ginisang Ampalaya sa Miso
Before preparing the ingredients, cut the ampalaya into thin diagonal slices.

Soak in water with a little salt. When about to be sauteed, stir and rinse two times (to lessen the bitter taste). Drain. Do not squeeze.

Pound the head and shell of shrimp in a mortar and pestle. Add 1/4 cup of water and strain to get the shrimp juice.

Heat oil in a pan and saute garlic until brown. Add onions. After 2 minutes add tomatoes. Stir and add pork and shrimps. Season with patis and add miso.

Saute for 3 minutes and pour in a cup water with shrimp juice. To avoid curdling of the shrimp juice, keep stirring till it boils.

Let boil for 5 minutes, then, add ampalaya. Sprinkle with MSG and cover.

Avoid stirring to prevent sauce from becoming bitter. Do not overcook and serve hot.