Fried itik or fried native duck is one of the popular dishes or fried food sold by sidewalk vendors. Although this is more expensive compared to roasted or fried chicken, you can never replace the taste of  fried itik. One place where you can find many vendors of fried itik is in Angono, Rizal. But not all of them have the same quality and taste. Some are not properly prepared to remove the gamy flavor and smell.
Some are not as tender and juicy as the others. Of all the vendors of fried itik, there is one place you can never go wrong, that is in Marlon Special Fried itik in Angono, Rizal. I once asked the vendors where did they get the raw ducks. Did you know that those native ducks that are cooked in this town comes from Pampangga? They say it is cheaper to buy it from there than to raised them locally. There are also vendors of fried itik in Pampangga but the tastiest are those from Angono. But you know, it will be even more tastier if you will cook it yourself by trying the recipe below.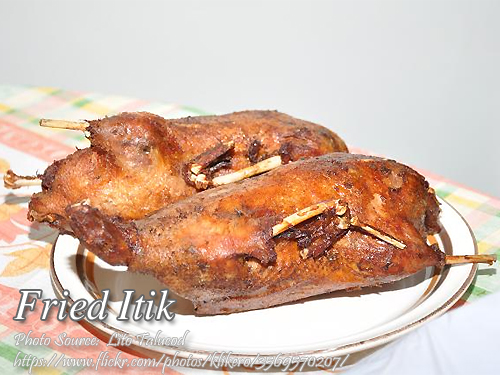 Print Recipe
How to Cook Fried Itik
Ingredients
1

piece

regular-sized native duck

2 1/4

cups

water

2

Tbsp.

rock salt

1

thumb-size ginger sliced

1

stalk celery sliced 1 inch-size

2

cup

cooking oil
Sweet Chili Sauce
1/2

tsp.

cornstarch

1/4

cup

water

3

Tbsp.

vinegar

1

Tbsp.

sugar

2

pcs hot chili pepper

1

tsp.

salt
Instructions
How to cook Fried Itik:
Clean duck very well.

Simmer duck in water, salt, ginger and celery stalk for about 1 and 1/2 hours or until tender.

Drain and dry in paper towel.

Deep fry in hot oil until golden brown. Serve hot with sauce.

Combine all sauce ingredients in a sauce pan.

Simmer while stirring continuously, until sauce thickens. Serves 6.