This carbonara recipe here is a Pinoy version of the famous carbonara. Instead of using beaten eggs and grated cheese to make the carbonara creamy, this version uses all-purpose cream, cream of mushroom and evaporated milk. This kind of carbonara is what most Pinoys love and is it suitable to our tropical climate since eggs easily spoil in warm temperature and you can't keep it for hours.
It is also the kind of pasta that you have to cook and serve immediately. Anyway, just for a sharing some info regarding the kind of cold cuts used in the recipe, the Italian version uses pancetta. Pancetta is an Italian bacon made from pork belly and salt cured and spiced, usually with black pepper. This kind of delicacy is expensive and hard to find locally than the ordinary bacon that we usually have in breakfast. So we just stick to the ordinary bacon. If you want to try other version of carbonara, you can try tuna carbonara!
Creamy Carbonara Pinoy Style: A Filipino Twist on an Italian Classic
Carbonara, the classic Italian pasta dish, has found a special place in the hearts of many around the world. Known for its rich, creamy sauce, typically created with beaten eggs and grated cheese, Carbonara has been adapted to suit various tastes. In the Philippines, it has undergone a delightful transformation, resulting in what is now known as Creamy Carbonara Pinoy Style. This Filipino take on the beloved pasta dish replaces eggs with a mixture of all-purpose cream, cream of mushroom, and evaporated milk, creating a creamy texture that's perfect for the tropical climate. In this article, we'll guide you through the process of making this mouthwatering Creamy Carbonara Pinoy Style that's sure to become a favorite at your dining table.
The Art of Crafting Creamy Carbonara Pinoy Style
Let's delve into the process of creating this delectable dish without resorting to lists:
Cooking the Pasta to Perfection
Start by cooking your preferred pasta following the package instructions. Adding a dash of cooking oil and a pinch of salt to the boiling water helps prevent the pasta from sticking together. Once cooked, drain the pasta and set it aside, ready to be bathed in the creamy goodness of the Carbonara sauce.
Sautéing the Aromatics: Building Flavor
In a medium-sized pan, melt a generous amount of butter over medium heat. Once the butter is sizzling, add finely minced garlic and diced onions to the pan. Allow them to sauté until the onions turn soft and translucent, releasing their wonderful aroma. The addition of these aromatics lays the foundation for the robust flavors that will infuse your Carbonara.
Introducing Earthy Mushrooms
The next step involves adding sliced mushrooms to the pan. Sauté them alongside the garlic and onions until they're seared to a beautiful golden brown. The mushrooms contribute an earthy, umami-rich dimension to the dish, complementing the creamy sauce and smoky bacon perfectly.
Creating the Creamy Base: A Harmonious Blend
Now, it's time to introduce the star players that make this Carbonara uniquely Pinoy. Pour in a combination of evaporated milk and cream of mushroom. As you stir the mixture continuously, bring it to a gentle boil. The key here is patience, allowing the sauce to simmer and gradually thicken to your preferred consistency.
Infusing Flavor and Texture with Smoky Bacon
One of the highlights of Creamy Carbonara Pinoy Style is the addition of locally available bacon. Unlike the traditional Italian pancetta, this Filipino version embraces the smokiness of bacon. Gently fold the fried bacon into the sauce, letting its savory essence meld seamlessly with the creamy base.
Balancing Act: Salt, Pepper, and a Hint of Sweetness
To achieve a harmonious balance of flavors, season your Carbonara with a pinch of salt, a generous dash of freshly ground black pepper, and just a touch of sugar. These seasonings come together to create a symphony of tastes, elevating your dish to perfection.
Enhancing Freshness with Parsley and Cheese
For a finishing touch, toss in half of your chopped parsley and a generous helping of grated cheese. Stir these ingredients into the Carbonara sauce, allowing them to meld and enhance the overall freshness and richness of the dish.
Bringing It All Together: The Grand Finale
With your creamy Carbonara sauce ready, turn off the heat and prepare to bring it all together. Gently pour the luscious sauce over the cooked pasta, ensuring that every strand is thoroughly coated. This step is crucial in achieving that perfect balance between pasta and sauce, ensuring every bite is a delight.
Garnishing with Flair
To elevate your Creamy Carbonara Pinoy Style to the next level, garnish it with the remaining chopped parsley and an extra sprinkle of grated cheese. This not only adds visual appeal but also a burst of freshness and richness that will leave your taste buds singing.
Creamy Carbonara Pinoy Style – A Taste of Filipino Comfort
Creamy Carbonara Pinoy Style is a testament to the Filipino talent for transforming a classic dish into something uniquely delightful. The creamy base, the smoky bacon, and the perfectly cooked pasta come together to create a comforting masterpiece that's ideal for any occasion.
The use of all-purpose cream, cream of mushroom, and evaporated milk in place of traditional eggs and grated cheese ensures that this Pinoy version is perfectly suited to the Filipino climate. It's a dish that brings people together, filling their hearts and stomachs with warmth and happiness.
So, why not treat yourself and your loved ones to a plate of Creamy Carbonara Pinoy Style? Follow these steps, savor the creamy goodness, and enjoy the taste of Filipino comfort at its finest. Bon appétit!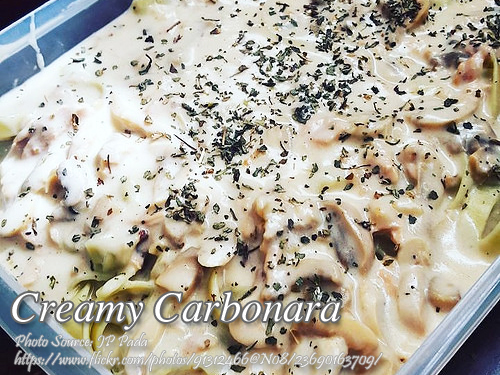 Print Recipe
How to Cook Creamy Carbonara Pinoy Style
Creamy Carbonara Pinoy Style is a Filipino twist on the classic Italian dish, featuring a luscious, velvety sauce made with all-purpose cream, cream of mushroom, and evaporated milk, complemented by the savory goodness of locally available bacon.
Ingredients
1

kilo

spaghetti or fettuccine pasta

cook as per package direction, drain

1/4

kilo

bacon

fried and chopped

1

small can

sliced mushroom

drain

2

packs

70g cream of mushroom soup (dissolved in 2 cups water)

1

pc

white onion

finely chopped

3

cloves

garlic

finely chopped

50

grams

butter

1

large

370ml can evaporated milk

2

packs

250ml all-purpose cream (chilled)

1

Tbsp.

sugar

salt and pepper to taste

few stalks of parsley

finely chopped

1

cup

grated cheese
Instructions
How to cook Creamy Carbonara Pinoy Style:
Cook the pasta as per package directions. Usually the instructions suggests adding cooking oil and few pinches of salt in the boiling water. If not indicated in the instructions, you can add cooking oil and salt to prevent the pasta from sticking together. Drain and set aside.

In a medium size pan, heat butter and saute garlic and onion until the onions are soft and fragrant. Then add the sliced mushrooms and saute until all sides are seared and slightly brown.

Then add the milk, cream of mushroom and all-purpose cream. Bring to a boil while stirring and simmer until the sauce thickens. Add in the fried bacon and season with salt, pepper and sugar.

Add in also half of the parsley and grated cheese. Continue stirring until all the ingredients are mixed thoroughly. Turn off heat. Pour on the cooked pasta and garnish with the other half of chopped parsley and grated cheese.
Notes
Cooking Tips of Pinoy Carbonara Recipe:
Perfect Pasta: Achieve the ideal pasta texture by cooking it al dente, ensuring it absorbs the creamy sauce while retaining a satisfying bite. Overcooking can lead to a mushy result, so keep a close eye on your pasta.
Balanced Seasoning: Maintain control over the flavor by tasting as you go. Adjust the salt, pepper, and a touch of sugar in small increments to create a harmonious blend that enhances the overall taste of your Creamy Carbonara Pinoy Style.
Serve Immediately: Creamy Carbonara is best enjoyed hot, so serve it promptly to savor its rich, creamy texture.
Nutrition Notes:
Calorie and other nutrition information is derived from HappyFolks.Com recipe nutrition calculator. The percent daily value (%DV) is based on a daily 2,000 calorie diet.
Nutrition Information:
Amount per Serving:350g, Calories:865kcal, From fat:310,  Total fat:35.7g, Saturated Fat:15.5, Trans Fat:0.4g, Cholesterol:72mg, Sodium: 1158 Total Carbohydrate: 109g, Dietary Fiber: 6g, Sugars: 12g, Protein: 28g, Vitamin A: 24%, Vitamin C: 30%, Calcium: 30%, Iron: 30%