Roasted chicken is one of the favorite dishes of Filipinos and you might wonder why is there so many roasted chicken store sprouting every where. From the premium brands like Andok's or Baliwag lechon manok that has been in business for so many years to the new players in the lechon manok business. But most of them are cooked and spit roasted over live charcoal.
The Uniqueness of Chooks to Go Style Roasted Chicken
Very few are seen selling roasted chicken on an oven. The most popular oven roasted chicken as far as I know is Chooks to Go and I'm sure if you have already tasted it, it is really tastier than that of lechon manok and you don't even need to eat is with a sauce because the marinade is deeply absorbed in the meat. The recipe here is just a copy cat and not exactly the taste that you might expect but at least it might be closer to the exact recipe. You are free to experiment and who knows you might get closer to the real recipe.
A Mouthwatering Delight You Can Make at Home
Roasted chicken has long been a beloved dish among Filipinos, and it's no wonder why. The succulent, flavorful meat with its crispy skin is simply irresistible. If you've ever wondered why there are so many roasted chicken stores sprouting up everywhere, it's because this dish has captured the hearts and taste buds of many. While the traditional way of cooking involves spit-roasting over live charcoal, there's a gem that stands out from the rest – Chooks to Go style roasted chicken.
Chooks to Go, with its delicious oven-roasted chicken, has become a favorite among Filipinos, and once you taste it, you'll understand why. Unlike the typical lechon manok, Chooks to Go boasts a unique marinade that is deeply absorbed into the meat, eliminating the need for additional sauces. If you're eager to recreate this delectable dish at home, we've got you covered with a copycat recipe that might not be an exact match but will surely delight your taste buds. So, let's get started on making your own version of Chooks to Go style roasted chicken!
A Flavorful Twist on Roasted Chicken
Before we dive into the recipe, let's talk about the key differences that set Chooks to Go style roasted chicken apart from the rest. Unlike the traditional spit-roasting method, Chooks to Go relies on an oven to achieve its mouthwatering results. Additionally, the marinade used in this recipe adds a unique and unforgettable flavor to the chicken that truly stands out. So, let's learn how to make this delightful dish step-by-step.
Prepare the Chicken
Begin by cleaning and patting dry the whole chicken. For that authentic Chooks to Go taste, stuff the chicken with lemon grass and onions, which will infuse the meat with wonderful flavors.
Create the Marinade
The secret behind the irresistible taste of Chooks to Go style roasted chicken lies in the marinade. In a bowl, combine calamansi juice, salt, pepper, soy sauce, sugar, sprite, and oyster sauce. The combination of these ingredients creates a harmonious blend of sweet, tangy, and savory flavors that will leave you craving for more.
Marinate the Chicken
Pour the prepared marinade over the chicken and rub it into the meat thoroughly. To elevate the flavors even further, you can also use a big syringe to inject the marinade directly into the chicken. This step ensures that every bite is bursting with deliciousness. Once the chicken is well-coated, place it in a container or zip lock bags, cover, and let it marinate in the refrigerator overnight. This process allows the flavors to permeate the meat, resulting in a perfectly seasoned and tender chicken.
Roast to Perfection
Preheat your oven to 350°F (175°C) and roast the marinated chicken for approximately 1 hour and 30 minutes. For optimal results, a rotisserie oven is ideal, as it ensures even cooking on all sides, creating that coveted crispy skin and tender meat.
Baste for Extra Flavor
To enhance the flavors and maintain the juiciness, baste the chicken with the marinade every 30 minutes during the roasting process. This step ensures that every inch of the chicken is infused with the delectable marinade.
Serve and Savor
Once the chicken is perfectly roasted and the kitchen is filled with irresistible aromas, it's time to indulge in your homemade Chooks to Go style roasted chicken. You can serve it whole or chop it into pieces, depending on your preference.
Experiment and Enjoy
Remember, cooking is an art, and it's all about exploring and enjoying the process. While this recipe may not be an exact replica of Chooks to Go's secret formula, it comes pretty close and is undoubtedly a delightful dish in its own right. Don't hesitate to experiment with the marinade's ingredients to suit your taste preferences. Whether you're hosting a gathering, celebrating a special occasion, or simply craving a flavorful meal, this Chooks to Go style roasted chicken will undoubtedly impress your guests and leave you satisfied.
Wrap-Up
There you have it – a delectable recipe to recreate the mouthwatering Chooks to Go style roasted chicken in the comfort of your own kitchen. Embrace the flavors, experiment with the ingredients, and enjoy the process of cooking this beloved Filipino dish. Whether it's for a family dinner, a potluck gathering, or a celebration, this flavorful roasted chicken is sure to be a hit. So, roll up your sleeves, fire up the oven, and get ready to savor the delightful taste of Chooks to Go style roasted chicken! Want to try other roasted chicken? Try this Oven Roasted Chicken Inasal recipe!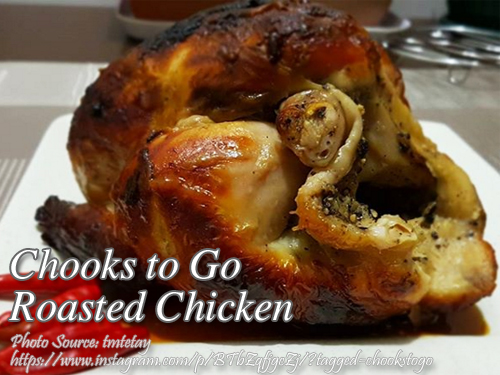 Print Recipe
How to Cook Chooks to Go Style Roasted Chicken
Chooks to Go roasted chicken is a succulent and flavorful Filipino dish known for its unique oven-roasted preparation and deeply absorbed marinade that sets it apart from traditional lechon manok.
Ingredients
1

whole

dressed chicken

3

stalks

lemon grass

tie on knots

1

pc

red onion

quartered
For the marinade:
10

pcs

calamansi

extract the juice

1

pinch

of salt

1

tsp.

ground black pepper

2

Tbsp.

soy sauce

2

Tbsp.

brown sugar

1

Tbsp.

honey

3

Tbsp.

sprite

4

Tbsp.

oyster sauce
Instructions
How to cook Chooks to Go style roasted chicken:
Stuff the chicken with lemon grass and onion. Set aside.

In a bowl, combine calamansi juice, salt, pepper, soy sauce, sugar, sprite and oyster sauce. Mix until the sugar is dissolved.

Pour the marinade on the chicken and rub and massage it on the chicken for a minute. You can also use a big syringe to inject the marinade inside the chicken so it will taste better.

Then put in a container and cover. Place in a refrigerator and let it marinate overnight.

Roast in a preheated 350 °F oven for about 1 hour and 30 minutes. It's better if you have a rotisserie oven so all the sides are cooked even.

Baste with the marinade on the chicken every 30 minutes of roasting. Chop before serving or serve whole.
Notes
Cooking Tips for Chooks To Go Roasted Chicken:
Marinate Overnight for Maximum Flavor: To achieve the mouthwatering taste that Chooks to Go style roasted chicken is known for, make sure to marinate the chicken overnight. Allowing the meat to soak in the marinade for an extended period helps the flavors penetrate deeply into the chicken, resulting in a more flavorful and tender dish.
Baste Regularly for Juiciness: Throughout the roasting process, baste the chicken with the marinade every 30 minutes. Basting not only adds an extra layer of flavor but also helps to keep the chicken moist and succulent. This step is crucial in ensuring that the chicken remains juicy and tender, even as it develops that coveted crispy skin.
Use a Rotisserie Oven for Even Cooking: For the best results, consider using a rotisserie oven to roast your Chooks to Go style chicken. A rotisserie ensures even cooking on all sides, creating a uniformly crispy and delicious skin while keeping the meat juicy and well-cooked. If a rotisserie oven is unavailable, a regular oven can still yield great results, but rotating the chicken occasionally can help achieve more even browning.