A tasty and simple to cook chicken pastel using readily available ingredients which you can find in your local supermarket. It required no baking and no need to top it with pastry crust. That is why it is a Pinoy style chicken pastel. Although this is a Pinoy style, we tried to use dried Chinese mushroom which makes this dish taste better that using canned button mushrooms.
I also think the Vienna sausage is a must for this chicken pastel dish but some are using hotdogs which is quite okay. But I think using chicken hotdog is better because it mimics the Vienna sausage in color and texture than the red colored hotdogs.
Deliciously Homemade Chicken Pastel Recipe
If you're in search of a scrumptious and easy-to-prepare dish that will leave your taste buds delighted, look no further than our homemade Chicken Pastel recipe. This Filipino classic is not only incredibly flavorful but also a breeze to whip up with readily available ingredients from your local supermarket. No need for baking, no fancy pastry crust – just pure, hearty goodness in the form of Chicken Pastel, lovingly referred to as "Pinoy-style." In this article, we'll guide you through the process of creating this culinary masterpiece, step by step.
The Perfect Chicken Pastel Ingredients
Before you embark on this culinary journey, it's important to gather all the essential ingredients. You'll need:
Chicken: Begin by placing your chicken in a bowl and generously seasoning it with salt and pepper. Make sure to mix it thoroughly to ensure that every piece is evenly coated. Set the seasoned chicken aside for now.
Cooking Oil: Heat some cooking oil in a wok to get things started. The oil serves as the base for the aromatic flavors that will infuse your Chicken Pastel.
Onion and Garlic: These two culinary powerhouses, when sautéed together, create an irresistible fragrance that will set the stage for your dish's delectable flavor.
Mushrooms: While some opt for canned button mushrooms, we recommend using dried Chinese mushrooms for an enhanced flavor profile. They bring a unique depth to the dish that elevates it to the next level.
Chicken Powder: To intensify the chicken flavor, add some chicken powder to the mix. It's the secret ingredient that ties everything together.
Carrots and Potatoes: These vegetables lend a delightful textural contrast to your Chicken Pastel. Make sure to chop them into bite-sized pieces for even cooking.
Bell Pepper: The vibrant colors and crispiness of bell peppers not only add a visual appeal but also a pleasant crunch to the dish.
Vienna Sausage: Many traditional recipes call for Vienna sausage, but if you can't find it, chicken hotdogs make an excellent substitute. They mimic the color and texture of Vienna sausages while still delivering a fantastic taste.
Milk, All-Purpose Cream, and Cheese: This trio of dairy goodness creates a creamy and velvety sauce that envelops the chicken and vegetables, resulting in a mouthwatering Chicken Pastel.
Cooking Your Chicken Pastel
Now that you have all your ingredients ready, let's dive into the cooking process.
Sautéing the Aromatics: In your preheated wok, sauté the finely chopped onion and garlic until they release their fragrant aromas. This step sets the foundation for your Chicken Pastel's delicious taste.
Introducing the Chicken: Once the onions and garlic have achieved that lovely golden hue, add your seasoned chicken. Sauté it for about a minute, allowing the chicken to seal in the flavors.
Mushroom Magic: Toss in your choice of mushrooms; in our opinion, the dried Chinese mushrooms work wonders for flavor enhancement. Give them a quick sauté for just a few seconds before covering the wok.
Simmer and Season: To develop the rich flavor profile, allow your chicken and mushroom mixture to simmer for a minute or so. Now, it's time to introduce the secret ingredient – chicken powder. Stir it in and then cover the wok once more, letting it simmer for a total of 15 minutes.
The Vegetable Medley: As your chicken cooks to perfection, add the carrots and potatoes to the mix. Stir them in, cover the wok, and let everything simmer until the potatoes and carrots are almost tender. This ensures that each bite is packed with both tenderness and a delightful crunch.
Creamy Goodness: The final stretch! Add the bell pepper, Vienna sausage (or chicken hotdogs), milk, all-purpose cream, and cheese to the wok. Bring the mixture to a gentle boil, stirring to incorporate all the flavors.
Let It Simmer: Allow your Chicken Pastel to simmer for an additional 2 minutes. This step helps all the ingredients meld together, creating a harmonious dish that's creamy, savory, and comforting.
Serving the Delight: Once your Chicken Pastel has simmered to perfection, turn off the heat. It's now ready to be served, piping hot, and paired with a generous serving of steaming rice.
Enjoy Your Homemade Chicken Pastel
There you have it – an easy-to-follow Chicken Pastel recipe that will impress your taste buds and delight your family and friends. This Pinoy-style favorite is all about simple ingredients, rich flavors, and a heartwarming meal that's perfect for any occasion.
By using dried Chinese mushrooms, chicken powder, and Vienna sausages (or chicken hotdogs), you've elevated the traditional Chicken Pastel to a new level of taste and texture. It's a dish that's sure to become a household favorite, making it perfect for family gatherings, potlucks, or just a cozy dinner at home.
Give this recipe a try and savor the magic of a homemade Chicken Pastel. It's not only easy to make but also bursting with flavor that's sure to make it a memorable addition to your culinary repertoire. So, gather your ingredients, heat up that wok, and get ready to serve a delicious and comforting Pinoy-style Chicken Pastel that will leave everyone asking for seconds.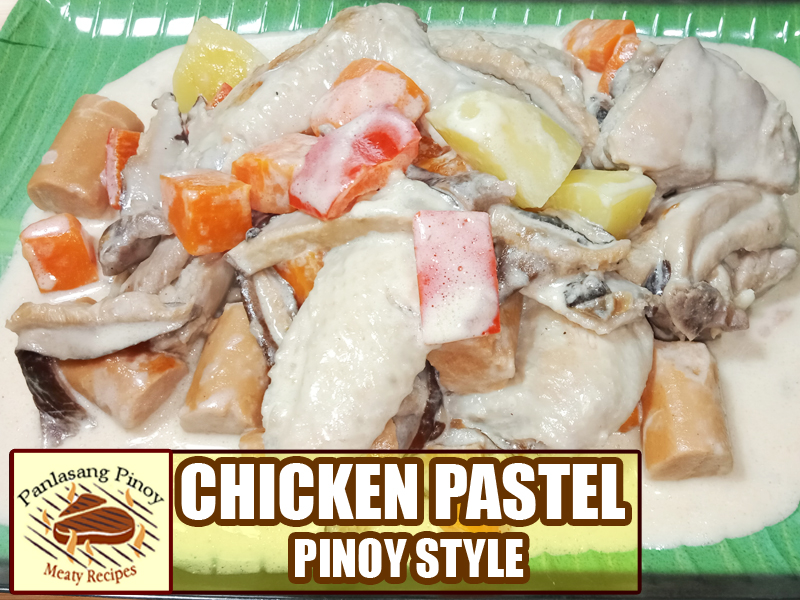 Print Recipe
Chicken Pastel Pinoy Style
A tasty and simple to cook chicken pastel using readily available ingredients which you can find in your local supermarket.
Ingredients
1

kilo

chicken

cut into serving pieces

2

pcs

medium sized potatoes

peeled and cut into large cubes

2

pcs

medium sized carrots

peeled and cut into large cubes

1

pc

large bell pepper

cut into squares

1

small can

Vienna sausage

drained and cut into 2 pieces

1/2

cup

dried Chinese mushrooms

soaked in hot water and sliced

1

cup

evaporated milk

2

pcs

medium sized onion

minced

5

cloves

garlic

minced

1/2

cup

Eden cheese

grated

1

tsp.

chicken powder

1

tsp

salt

1/4

tsp

ground black pepper

2

Tbsp.

cooking oil

1

small pack all purpose cream

125ml
Instructions
How to cook Pinoy Chicken Pastel:
Put chicken in a bowl and add salt and pepper. Mix the well until the chicken is well coated. Set aside.

In a wok, heat cooking oil and saute onion and garlic until the fragrant.

Then add chicken and saute for 1 minute. Then add the mushroom and saute again for a few seconds. Then cover.

Let it simmer for a minute then add the chicken powder. Stir and cover again and let it simmer for 15 minutes more.

Then add the carrots and potatoes. Stir then cover and let it simmer until the potatoes and carrots are almost tender.

Then add the bell pepper, Vienna sausage, milk, all-purpose cream and cheese. Bring to a boil and stir.

Simmer for 2 minutes more then turn off heat. Serve hot with steaming rice.
Video
Watch the Video Below on How to Cook Chicken Pastel Pinoy Style: