Beef teriyaki is one of the popular Japanese dishes that are known worldwide. This is similar to our local beef tapa but the only difference is, it is sweet because of the teriyaki sauce and the beef is usually thinly sliced. I think it is closely resemble the beef bulgogi in appearance but again the main difference is the sweet teriyaki sauce.
This is actually very simple to cook and I think you might have the assumption that is it hard to cook because it is served usually in a Japanese restaurant or fast food. Some basic skills in cooking is all you need to cook this recipe. The recipe here also has teriyaki sauce recipe so you don't need to buy a commercial ready made teriyaki sauce. Want to try the chicken version? Try this chicken teriyaki!
Unlock the Flavors of Japan with this Delicious Beef Teriyaki Recipe
Beef teriyaki, a savory and sweet Japanese delicacy, has earned its place as a beloved dish worldwide. While it may seem like a complex culinary masterpiece, the truth is, with some basic cooking skills, you can recreate this mouthwatering recipe in the comfort of your own kitchen. What sets beef teriyaki apart is its delectable teriyaki sauce, which imbues the thinly sliced beef with irresistible flavors. If you're ready to embark on a culinary adventure and savor the taste of Japan, follow this step-by-step guide, complete with a homemade teriyaki sauce recipe.
Marinating the Beef
To ensure that your beef teriyaki is bursting with flavor, the first step is marinating the beef. Here's how to get started:
Prepare the Marinade: Begin by marinating the beef in a mixture of calamansi juice, soy sauce, and pepper. These ingredients infuse the meat with a delightful blend of tanginess and umami. Allow the beef to soak up these flavors for at least an hour.
Creating the Teriyaki Sauce
The heart of any great beef teriyaki lies in its teriyaki sauce. Instead of relying on store-bought options, why not make your own? Here's a simple recipe:
Combine the Key Ingredients: In a pan, mix together water, sake, and soy sauce. Stir as you add both white and brown sugar to create a sweet and savory base for the sauce.
Add Aromatic Flavors: To elevate the sauce, introduce minced garlic and ginger. These aromatic ingredients will infuse the sauce with depth and complexity.
Simmer to Perfection: Heat the mixture until it reaches a gentle boil, then promptly turn off the heat. To ensure a smooth and velvety sauce, strain it through a fine sieve into a bowl. Allow it to cool, setting it aside for the final step of your beef teriyaki preparation.
Cooking the Beef Teriyaki
With your marinated beef and homemade teriyaki sauce ready, it's time to cook up a Japanese storm in your kitchen. Follow these simple steps:
Searing the Beef: Begin by heating some cooking oil in a pan. Over low heat, stir-fry the marinated beef until it takes on a golden brown hue. The aroma wafting through your kitchen at this stage is sure to whet your appetite.
Introduce the Teriyaki Sauce: Once the beef reaches its desired level of crispiness and color, it's time to introduce the star of the show – your homemade teriyaki sauce. Pour it over the beef, along with the remaining marinade and some water.
Simmer to Perfection: Cover the pan and let the beef simmer for approximately 8 to 10 minutes. This gentle simmering allows the meat to become tender and absorb the sweet and savory essence of the teriyaki sauce.
Adjust the Seasoning: To cater to your taste preferences, don't hesitate to adjust the seasoning. You can add more teriyaki sauce or water to achieve the perfect balance of flavors.
Finishing Touches: Turn off the heat and sprinkle sesame seeds over the beef. Give it a good stir to ensure that the sesame seeds are evenly distributed. Transfer your beef teriyaki to a serving dish and garnish it with freshly chopped spring onions.
Savoring the Delight of Homemade Beef Teriyaki
There you have it – a delicious homemade beef teriyaki that rivals the offerings of your favorite Japanese restaurant. The combination of succulent beef, homemade teriyaki sauce, and aromatic sesame seeds make this dish a true culinary masterpiece.
The beauty of this beef teriyaki recipe lies not only in its rich flavors but also in its simplicity. With just a few basic cooking skills, you can recreate the magic of Japan in your own kitchen. Plus, by crafting your own teriyaki sauce, you can adjust the sweetness and saltiness to match your personal taste preferences.
So, the next time you're craving the exquisite taste of beef teriyaki, don't rush to a restaurant. Instead, embark on a culinary journey in your own home. With this recipe, you have the power to unlock the flavors of Japan and savor them whenever your heart desires. Say goodbye to takeout and hello to the joy of homemade beef teriyaki.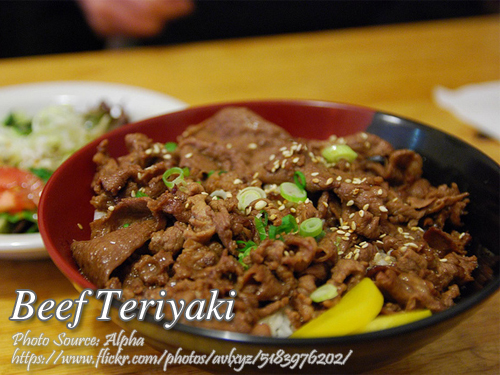 Print Recipe
Beef Teriyaki
This is similar to our local beef tapa but the only difference is, it is sweet because of the teriyaki sauce and the beef is usually thinly sliced.
Ingredients
500

grams

beef sirloin

sliced thinly into strips

3 to 5

Tbsp.

teriyaki sauce

1

Tbsp.

calamansi juice

2

Tbsp.

soy sauce

1

Tbsp.

cooking oil

1/2

cup

water

1

tablespoon

sesame seeds

toasted

spring onions for garnishing
Ingredients for teriyaki sauce:
1/2

cup

soy sauce

2

Tbsp.

sake or dry sherry

1/4

cup

water

1

dash

of ground black pepper

1

Tbsp.

brown sugar

1/4

cup

granulated white sugar

1 1/2

tsp.

garlic

minced

1 1/2

tsp.

ginger

grated
Instructions
How to cook Beef Teriyaki:
Marinate the beef with calamansi juice, soy sauce and pepper for an hour.

Heat cooking oil in a pan and stir fry the beef in low heat until golden brown. Pour in the teriyaki sauce, marinade and water. Cover and simmer for 8 to 10 minutes until tender.

Adjust the seasoning by adding more teriyaki sauce or water according to your preference.

Turn off heat and sprinkle with sesame seeds and stir. Transfer to a serving dish and garnish with spring onions.
How to make teriyaki sauce:
Heat a pan and pour in water, sake and soy sauce. Stir and add the white and brown sugar while stirring.

Add in the garlic and ginger until the liquid starts boiling. Then turn off heat. Pass through a strainer while transferring it to a bowl. Cool and set aside for use in cooking your beef teriyaki.
Notes
Cooking Tips for Perfect Beef Teriyaki
Thinly Sliced Beef is Key: To achieve that classic, tender texture in your beef teriyaki, it's crucial to thinly slice the beef. Opt for cuts like sirloin or flank steak and make sure to slice them against the grain. This will result in beef that's not only flavorful but also easy to chew. If you find it challenging to slice the beef thinly at home, consider asking your butcher to do it for you.
Control the Heat: Controlling the heat during the cooking process is essential for achieving the ideal beef teriyaki. When you initially sear the beef, use low to medium heat to prevent overcooking and ensure the meat remains juicy. During the simmering phase with the teriyaki sauce, maintain a gentle simmer rather than a rolling boil. This slow simmer allows the flavors to meld together while keeping the beef tender. Keep a watchful eye on the heat to prevent burning or overcooking.
Balance the Teriyaki Sauce: While the homemade teriyaki sauce is the star of the dish, achieving the perfect balance of flavors is key. Taste the sauce as you go along and adjust the sweetness and saltiness to suit your palate. If you prefer a sweeter teriyaki sauce, add more sugar, and if you want it saltier, increase the soy sauce. You can also customize the sauce by adding a touch of mirin for extra sweetness or a pinch of red pepper flakes for a subtle heat. Remember, the teriyaki sauce should complement the beef, so don't be afraid to tailor it to your liking.