Ingredients
3/4 kilo pork, cubed
1/2 kilo chicken, cubed
4 cup water
1 bunch spring onions
1 Tbsp. salt
1 Tbsp. cooking oil
4 cloves garlic, crushed
1 pc onion, chopped
1 pc chorizo de bilbao, sliced
4-5 cup broth
4 pcs potatoes, pared and quartered
4 pcs ripe saba or plantain banana, peeled and sliced
1 can garbanzos, chickpeas
1 can tomato sauce
1 small cabbage head, wedged
1/4 cup evaporated milk (optional)
How to cook pochero
In a medium saucepan, boil pork and chicken in water with spring onions and salt until tender.
Drain meats and reserve broth. Heat oil and sauté garlic and onion until soft.
Add the meats and chorizo de bilbao. Stir-fry. Pour the broth and bring to a boil.
Lower heat and simmer for 20 minutes. Add the potatoes, bananas and garbanzos.
Simmer for 15 minutes or until potatoes are tender.
Pour tomato sauce. Add cabbage and continue simmering for a few minutes.
If desired, stir in milk. Serve hot with eggplant sauce(search this site). Serves 10.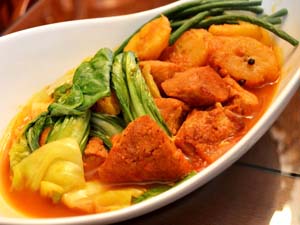 Try Other Recipes :
Beef Pochero with Egg Plant Sauce

Beef pochero dish is a variation of the well known pork pochero. This recipe is actually ste ...

Beef Pochero

Beef pochero is one of the varieties of pochero. The original pochero recipe use pork as the ...