Fish Kare-Kare (Labahita)
Ingredients:
3/4 kilo labahita, deboned and cut into large cubes
2 tbsp rice flour
1/2 cup cornstarch
1/2 cup toasted peanuts, pounded
6 cloves garlic, crushed
3 heads native pechay
1 medium onion, chopped
1 tbsp calamansi juice
5 strings sitaw (l00g), cut into 2″ pieces
1/3 tsp iodized salt or 1 tsp rock salt
1 medium puso ng saging (banana heart), sliced
1/4 tsp pepper
3 medium eggplants, sliced
1 to 1/2 cups water
1 tbsp atsuete juice
1 tsp sugar
1 can (140 g) Del Monte
oil for frying
Tomato Sauce
Bagoong alamang or shrimp paste (sauteed)
How to cook Fish Kare-Kare
Marinate labahita cubes in calamansi juice, iodized or rock salt and pepper for 30 minutes.
Coat each piece with cornstarch, then fry in oil until golden brown. Set aside.
Saute onion and garlic in oil. Add water, sitaw, puso ng saging, eggplant and atsuete juice.
Season with salt, pepper and sugar according to taste. Simmer for 20 minutes.
Add the rest of the ingredients except fish.
Simmer, stirring occasionally, until pechay is cooked.
Add fish just before serving. Serve with sauteed bagoong alamang.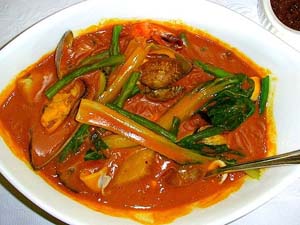 < See More Saltwater Fish Recipes