This recipe is from Southern Tagalog Region IV. Crab meat is cooked with cauliflowers, carrots and cabbage. This is a healthy and tasty dish because it contains no fat and low in cholesterol because it contains mostly vegetables.
Ingredients:
3 cups cauliflower flowerets
4 Tbsp. cooking oil
1 tsp. crushed garlic
2 Tbsp. sliced onion
1/2 cup crab meat from boiled crabs
1 cup rice washing
1/2 teaspoon salt
1 tsp. soy sauce
1 cup carrot, sliced thinly
1 cup sliced cabbage
2 tsp. cornstarch, blended with 1 tablespoon water
2 sprigs of kinchay
How to cook crab meat with cauliflowers:
Sauté garlic, onion and crab meat. Add rice washing. Bring to a boil.
Season with salt and soy sauce. Add cauliflower, carrot and cabbage.
Cover and cook 4 minutes. Thicken with cornstarch blended with water.
After 1 minute, remove from fire and serve hot.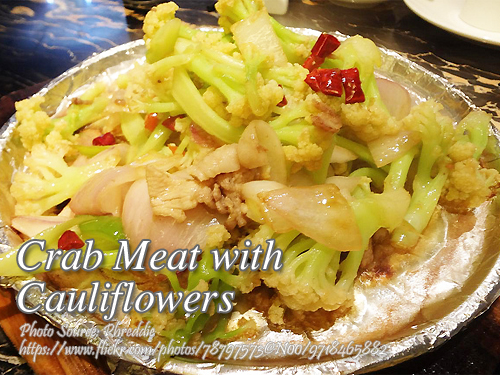 Try Other Recipes :
Crab Meat Casserole

Crab meat casserole is a simple dish that does not require baking. Only a simple stir frying ...

Crab Stuffed Fish Fillet

Searching for a special fish fillet recipe? I think this sumptuous fish fillet stuffed with ...