There are lots of chicken inasal recipes you can find in the internet and there are many variations too. The ingredients are very basic and simple but sometimes you are in a hurry to cook chicken inasal and you wish there is a premix marinade available in the supermarket. When cooking barbecue, although it's not hard to make the marinade, using a premix marinade is a lot quicker than making it in a conventional method. It is time saving too.
Ingredients:
1 kilo Fresh chicken thigh
3/4 cup (200ml) Mama Sita's Inasal Marinade
thick bamboo skewers (optional)
For the Basting mixture, mix together:
1 tsp Annato powder (atsuete powder)
3 Tbsp Cooking oil
How to cook chicken inasal:
Place chicken in a bowl and pour Mama Sita's Inasal Marinade.

Marinate for 3 hours. For better absorption of the flavor, massage chicken every hour (or marinate overnight in the refrigerator). Skew the chicken if there are available bamboo skewers or use tongs to turn the chicken when grilling.
Grill over live charcoal and baste with basting mixture at least twice on both sides for 20 minutes until cooked.
Serve with calamansi, chili pepper and spiced vinegar (mixture of palm vinegar, crushed garlic and chili peppers).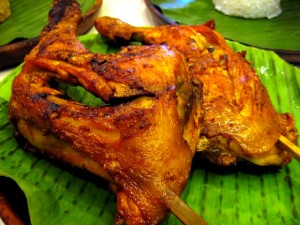 Try Other Recipes :
Pinoy Chicken Barbecue

Most Filipino barbecue marinade contains soy sauce but this chicken barbecue recipe don't ha ...

Chicken Tocino Salad

Usually tocino is fried in oil and pork is used instead of chicken. But chicken tocino is al ...