Ingredients:
1/2 kilo beef kenchi (boneless shank), cut into cubes
1 meaty ham bone
1/4 kilo white beans
1/2 chicken, cut into serving pieces
1 piece Chorizo de Bilbao, sliced
5 medium potatoes, diced
2 radishes, diced (optional)
1 & 1/2 cups cooked garbanzos
1/4 kilo cabbage, shredded
1 cup olive oil
How to cook Caldo Gallego Filipino
Soak the beans in water overnight.

In a large casserole, put in meat, ham bone and beans. Add water to cover by about 2 inches. Bring to a boil, lower heat and simmer.
When meat is almost tender, add the chicken. If the soup seems to be too thick, add hot water.
When the chicken is nearly done, add the chorizo, potatoes, radish, garbanzos and cabbage. Continue cooking until the potatoes are tender. Add the olive oil or serve on the table.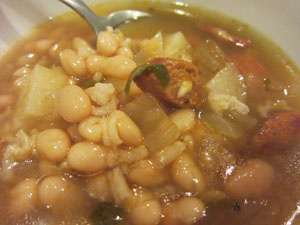 Try Other Recipes :
Pamplina Soup Filipino

Ingredients: 1 & 1/2  kilo beef pata 1/4 kilo salt pork 1/4 cup olive oil 4 large ...

Beef Pochero with Egg Plant Sauce

Beef pochero dish is a variation of the well known pork pochero. This recipe is actually ste ...