Siling labuyo or bird's eye chili is a local favorite and is usually paired with fish sauce or soy sauce as a dipping sauce to grilled meat or seafood. When made into a a hot sauce, it works well with meat dishes or any food infused with tomatoes or any Asian dishes. Making this pepper sauce is easy but it requires you to age the chilies for a month to make the it more appetizing. Once you aged it, then the following procedures are very easy. There are two ways you can enjoy this hot pepper sauce, you can sieve it and save only the liquid or you can include the pulp and seeds in the mixture. But which way you choose, the result is good.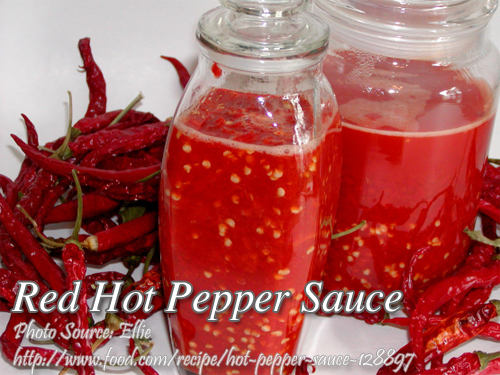 Print Recipe
How to Make Red Hot Pepper Sauce
Ingredients
1

cup

ripened siling labuyo

red bird's eye chili, stemmed and coarsely chopped

1/2

tsp.

salt

1/4

cup

white vinegar
Instructions
How to Make Red Hot Pepper Sauce:
Wash the chilies thoroughly and dab them with a dry cloth towel to dry.

In a food processor, puree the chilies and season with salt.

Transfer to a bottle and press the peppers down until liquid rises above. This way, the mixture is protected from bacteria while you age it.

If there is not enough liquid, you may pour in about 4 tablespoons of salted water.

Cover the bottle and let the chili sauce age for a month at room temperature.

Check your mixture from time to time to make sure that liquid is still covering the mixture.

Otherwise, pour few more tablespoons of salted water. (Ratio of salted water or brine is 1 tablespoon of salt to 1 cup of water).

Once aged, transfer the chili sauce to a new sterilized bottle. mix in the white vinegar and allow to ferment for one more week.

After fermenting, use a strainer or a cheesecloth to strain the mixture or else leave it without straining depending on your preference.

Bottle your home made chili sauce and keep refrigerated.