This recipe is pork barbecue on bamboo sticks containing beer for added flavor and also to tenderize the meat. Although it looks like almost the same as the traditional pork barbecue but the taste is enhanced because of the beer.  Some seller have already adding beer in pork barbecue to improve the taste and you will not notice it because they only add a little of it. So I think this recipe is a must try and I'm sure you are going to love it! Just choose pork with thirty percent fat so the pork barbecue will not become too sdry when cooked.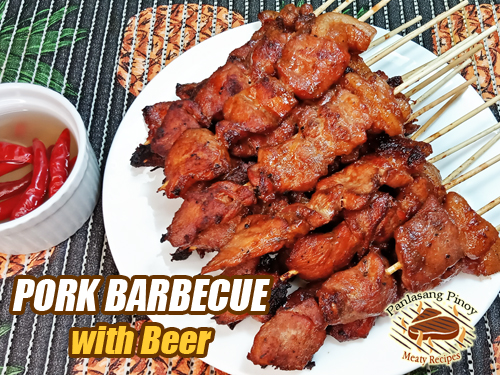 Print Recipe
How to Cook Pork Barbecue with Beer
This recipe is pork barbecue on bamboo sticks containing beer for added flavor and also to tenderize the meat.
Ingredients
1

kilo

pork shoulder or pork butt

sliced into bite size pieces

1/2

cup

soy sauce

1

piece

lemon or 3 to 4 pieces calamansi extract the juice

1/2

tsp

ground black pepper

3

Tbsp.

washed or brown sugar

1

tsp

salt

4

cloves

garlic crushed

1

pc

red onion minced

1/4

cup

banana catsup

3/4

cup

beer

1

Tbsp.

cooking oil

barbecue skewers or sticks
Instructions
Wash in running water and clean the pork shoulder and slice it into 1/4 inch thick. Then cut the pork slices into bite size pieces so it will fit the bamboo skewers or sticks

In a container (tupperware or zip bag will do well), put the pork slices and add in soy sauce, calamansi or lemon juice, black pepper, salt, onion, garlic, catsup beer and cookiing oil.

Mix and mash the pork for a minute so that the marinade will be absorbed and let it marinade for 2 hours.

It is better to marinate it overnight in the fridge so that the beer will tenderize the meat and the marinade will be absorbed by the meat much better than just marinating it for a few hours.

Skewer all the meat slices using bamboo sticks until all the pieces are on the sticks.

When you are ready to grill the pork barbecue, prepare a charcoal grill and light up the charcoal.

Distribute the live burning charcoal on the bottom of the grill so that the meat will be evenly cooked.

Arrange the meat over the grill when the coals are already and prepare the marinade by pouring it on a small container like a plastic bowl and get a basting brush.

Let it cook over the charcoal and baste it with the marinade using the basting brush.

Turn the meat over and brush it again with the marinade to avoid burning and drying up.

Repeat the process again until the pork barbecue is cooked.

Transfer it to a serving plate and serve hot with vinegar and chili dip.