This is a tasty and juicy fried pork chop that is easy to prepare and to cook. Compared to other fried pork chops, this one is tender and not tough because it was soaked in brine solution consisting of water, salt, peppercorns, garlic, bay leaves, patis and lemongrass. The lemongrass is I think one of the secret ingredient in making a brine solution for meats because it rid of the gamy taste or "lansa" which ruins most of the meat dishes. And adds as distinct flavor to the meat. Just don't over cook the pork chops so it will retain its juiciness and flavor.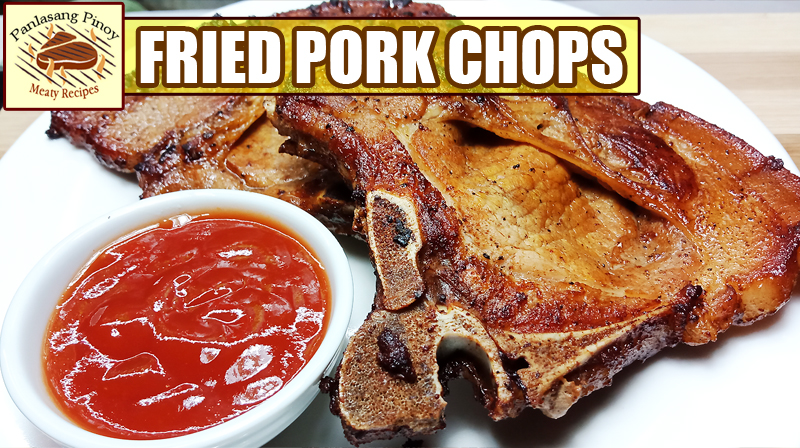 Print Recipe
Pan Fried Pork Chops
This is a recipe of pan fried pork chops.
Ingredients
Brine solution:
1

liter

water

1

Tbsp.

salt

1

tsp

peppercorn

2

stalks lemongrass

tied into a knot

1/2

head garlic

crushed

3

pcs bay leaves

1

tsp

patis
Marinade sauce:
1

tsp

patis

1/4

tsp

pepper

1

tsp

brown sugar or honey

1

Tbsp

soy sauce

1

Tbsp

cooking oil

1

tsp

Worcestershire Sauce
Instructions
How to cook Pan Fried Pork Chops:
Wash and drain the pork chops. Score the skin and fat of the pork chops about one inch distance apart.

This will prevent the pork chops from curling during frying. Set aside in a cool place.

Make a brine by combining water, salt, peppercorn, lemongrass, garlic, bay leaves and patis in pot.

Put in a stove and bring to a boil. Simmer for 5 minutes and let it cool.

Put the brine solution in a container with a lid and combine the pork chops and the brine solution.

Brine the pork for at least 4 hours or overnight which is better.

Remove the pork from the brine and put on the a colander to drain.

Dry the pork chops using paper towels. Then combine the marinade mixture and mix until the sugar is dissolved.

Brush the pork chops with the marinade mixture and marinate for an hour.

Then fry the pork chops until brown or at least 5 minutes on each sides.

Just don't overcook so the meat will not be tough and to retain its juiciness.

Serve with your favorite dipping sauce and steamed rice.