A tasty sweet skinless longganisa made from ground pork, spices and condiments. It is a Pampanga style longganisa because of its very sweet taste compared to other longganisa on other regions. It's because most Kapampangan have a sweet tooth so even making cured meat like longganisa and tocino, the amount of sugar content is generous.
In making this longganisa, you don't need to use hog casings which will simplify the process of making this delicacy. Hog casing are not always available in wet market or supermarkets and the last resort is to make one yourself which I think is a laborious task and messy specially in cleaning the pigs intestines. Stuffing the hog casing with the meat mixture is also a hassle if you don't have a sausage stuffer. In making skinless longganisa, you only need wax paper or just your bare hands in shaping the logs or patties whichever you prefer.
Pampanga Skinless Longganisa: A Delightful Pampanga Delicacy
Longganisa, a beloved Filipino sausage, comes in various flavors and styles across different regions of the Philippines. One standout variation is the Pampanga Skinless Longganisa, renowned for its distinctive sweet taste and unique preparation method. In this article, we'll delve into the mouthwatering world of Pampanga Skinless Longganisa and guide you through the process of making this delectable delicacy.
The Sweet Essence of Pampanga Style Longganisa
Pampanga Skinless Longganisa stands out from its counterparts due to its delightful sweetness, which reflects the Kapampangan preference for sugary flavors. The province of Pampanga, known as the "Culinary Capital of the Philippines," boasts a rich culinary heritage, and this longganisa is a prime example of the region's flavorful creations. The generous use of sugar in Pampanga Skinless Longganisa sets it apart, making it a perfect treat for those with a sweet tooth.
Simplifying the Process: No Hog Casings Required
Unlike many traditional longganisa recipes that involve using hog casings for stuffing the meat mixture, Pampanga Skinless Longganisa simplifies the process. Hog casings can be hard to come by in local markets and supermarkets, and crafting them yourself from pig intestines can be a time-consuming and messy task. This unique variation does away with the need for hog casings, making the preparation significantly more straightforward.
Crafting Pampanga Skinless Longganisa: Preparing the Pork
Start by preparing the main ingredient: the pork. Ensure you've removed the skin while retaining the fatty layer, as it contributes to the rich flavor and moisture of the longganisa. Grind the pork finely using either a meat grinder or a food processor. This finely ground pork forms the base of the flavorful mixture.
Creating Achuete Oil
Achuete oil is a vital component of Pampanga Skinless Longganisa, contributing both color and flavor. Soak 2 tablespoons of achuete seeds in 2 tablespoons of cooking oil for an hour. Once infused, strain and set aside the achuete oil for later use.
Mixing the Ingredients
In a mixing bowl, combine the finely ground pork, vinegar, minced garlic, sugar, ground pepper, salt, and the achuete oil you prepared earlier. Thoroughly mix all the ingredients until they are well combined. This step is crucial for distributing the flavors evenly throughout the mixture.
Chilling the Mixture
After the ingredients are mixed, cover the bowl and refrigerate the mixture for at least 5 hours or, ideally, overnight. Chilling allows the flavors to meld and develop, resulting in a more flavorful longganisa.
Forming the Longganisa Logs
Once the mixture is adequately chilled, it's time to shape the longganisa. Form the meat mixture into logs, each about an inch in diameter and 3 to 4 inches long. You can make this process even more convenient by using wax paper to shape the logs. Cut the wax paper into approximately 6 by 4-inch sheets, wrap the mixture, and roll it into logs.
Freezing for Future Enjoyment
Place the wrapped longganisa logs on a baking sheet and freeze them until they are firm. Once frozen, transfer them to plastic bags or containers for easy storage in the freezer. This way, you can enjoy your homemade Pampanga Skinless Longganisa whenever you crave it.
Cooking to Perfection
When you're ready to enjoy your Pampanga Skinless Longganisa, there are two popular cooking methods to choose from. You can opt to fry the longganisa directly in cooking oil over low heat, ensuring they brown evenly without burning on the outside or remaining undercooked on the inside. Alternatively, you can bring a delightful twist by boiling the longganisa in water until the liquid evaporates and then frying them in cooking oil for that irresistible crispy texture.
Final Thoughts
Pampanga Skinless Longganisa is a testament to the culinary ingenuity of the Kapampangan people and their penchant for balancing flavors. Its sweet profile and simplified preparation process make it a sought-after delicacy among Filipino food enthusiasts. By following the steps outlined in this guide, you can create your own batch of Pampanga Skinless Longganisa, savoring its rich flavors and sharing a taste of Pampanga's culinary heritage with your loved ones. Whether fried to perfection or boiled and crisped, this delightful longganisa variation promises a memorable gastronomic experience that captures the essence of Pampanga's culinary excellence.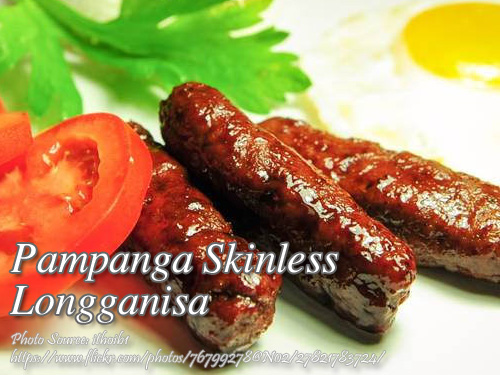 Print Recipe
How to Make Pampanga Style Skinless Longganisa
Pampanga Skinless Longganisa is a uniquely sweet and flavorful Filipino sausage made from finely ground pork, vinegar, garlic, sugar, spices, and achuete oil, renowned for its delightful taste and simplified preparation method.
Ingredients
1/2

kilo

ground pork shoulder

6

garlic cloves garlic

chopped

4 1/2

Tbsp.

washed sugar

light brown sugar

1

Tbsp.

freshly-ground black pepper

3/4

Tbsp.

sea salt

2

Tbsp.

achuete oil

soak 2 Tbsp. achuete seeds in 2 Tbsp. cooking oil

1

Tbsp.

vinegar
Instructions
How to make Pampanga Style Skinless Longganisa:
If you are going to ground your pork, remove the skin and leave the fatty layer. Grind the pork finely using a meat grinder or food processor. To make the achuete oil, soak 2 Tbsp. achuete seeds in 2 Tbsp. cooking oil for an hour. Remove the seeds and set aside the achuete oil.

In a mixing bowl combine pork, vinegar, garlic, sugar, pepper, salt and achuete oil. Mix all the ingredients until well combined. Chill the mixture for at least 5 hours or overnight.

Form the meat mixture into logs about and inch in diameter and 3 to 4 inches long. You can use wax paper to make the logs and cut it about 6 inches by 4 inches. Form the mixture into logs and roll in wax paper.

Put longganisa in a baking sheet and put in a freezer until frozen. Transfer to plastic bags or plastic containers and put back in the freezer for storing.

To cook the longganisa, you can fry it directly in cooking oil in low heat until brown to prevent burning the longganisa and still raw inside. You can also put some water in the pan and boil the longganisa until the liquid evaporates. Then put some cooking oil and fry it until cooked.
Notes
Cooking Tips in Making Skinless longganisa:
Thorough Mixing for Even Flavors: When combining the ingredients for skinless longganisa, ensure thorough mixing to evenly distribute the flavors throughout the meat mixture, enhancing the taste of every bite.
Chill to Enhance Flavor: Allowing the mixture to chill for a minimum of 5 hours or overnight before shaping and cooking allows the flavors to meld and intensify, resulting in a more delicious and aromatic final product.
Low and Slow Frying: When cooking skinless longganisa, opt for low heat while frying to achieve a perfectly browned exterior without burning. This ensures that the sausage is cooked evenly and retains its juicy, succulent texture.