If you are looking for an alternative to pork sinigang, then I think this kinamatisang pork ribs is the one you are looking for. They are quite similar because the broth has a souring agent. But unlike sinigang, this dish is using ripe tomatoes instead of tamarind. But usually its not as sour as sinigang and it is more of a nilagang baboy. It is something in between and the flavor is just right. Kinamatisang pork ribs is a pork bone soup prepared by slowly simmering the bony pork cuts until tender and combined with white radish (Daikon), pechay, garlic and onions and a generous amount of tomatoes.
A Unique Alternative to Pork Sinigang: Kinamatisang Pork Ribs
If you're a fan of Filipino cuisine, you've likely indulged in the delightful flavors of pork sinigang. But what if I told you there's another equally delicious option that you may not have explored yet? Introducing Kinamatisang Pork Ribs – a mouthwatering dish that offers a unique twist on the familiar flavors of sinigang. Let's dive into what makes this dish so special and how you can easily prepare it at home.
A Perfect Blend of Savory and Sour
In many ways, Kinamatisang Pork Ribs shares similarities with the beloved pork sinigang. Both feature a savory broth with a hint of sourness, creating a tantalizing balance that awakens the taste buds. However, the key difference lies in the choice of souring agent. While sinigang relies on tamarind to achieve its signature tartness, Kinamatisang Pork Ribs takes a creative turn by using ripe tomatoes. The result? A delightful medley of flavors that's just right – not as tangy as sinigang, yet not as mild as nilagang baboy.
A Symphony of Ingredients
To create this culinary masterpiece, you'll need a handful of fresh and flavorful ingredients. Let's take a closer look at each component that comes together to make Kinamatisang Pork Ribs an unforgettable dish:
Tender Pork Ribs: The star of the show! Choose bony cuts of pork ribs to infuse the broth with rich and meaty goodness.
Ripe Tomatoes: The souring agent that sets this dish apart. Opt for juicy and fully ripe tomatoes to maximize the flavor.
White Radish (Daikon): This mild-flavored vegetable adds a refreshing crunch to the soup, complementing the tender pork ribs.
Pechay: A leafy green vegetable that imparts a subtle bitterness, balancing the overall taste of the dish.
Onions and Garlic: The aromatic duo that forms the foundation of the broth, adding depth and character to the soup.
Cooking Oil: Use a neutral oil like vegetable oil for sautéing, allowing the flavors of the ingredients to shine.
Patis (Fish Sauce): A quintessential Filipino condiment that enhances the umami profile of the dish.
Water: The essential element that brings all the ingredients together, forming the flavorful broth.
Crafting the Culinary Delight: Step-by-Step Guide
Now that we have all the ingredients prepared, let's embark on the journey of creating a scrumptious pot of Kinamatisang Pork Ribs. Follow these step-by-step instructions to bring this delightful dish to life:
Sautéing the Aromatics: In a wok or pot, heat the cooking oil over medium heat. Sauté the onions and garlic until they turn tender and release their tantalizing aroma.
The Tomato Transformation: Add the ripe tomatoes to the mix and sauté them for about a minute. Pour in the patis, allowing the flavors to blend harmoniously.
Embrace the Pork: Introduce the pork ribs to the wok and sauté them until they undergo a slight change in color, typically taking 3 to 5 minutes.
Simmer to Perfection: Pour in 1.5 liters of water and bring it to a gentle boil. Once the broth starts bubbling, lower the heat, cover the wok, and let it simmer for approximately 20 minutes or until the pork becomes fork-tender.
Add the White Radish: Now, it's time to incorporate the white radish into the simmering broth. Allow it to cook for an additional 10 minutes until it softens and becomes tender.
The Final Touch: Add the pechay leaves to the pot and let them cook for 1 to 2 minutes until they become vibrant and tender.
A Symphony of Flavors on Your Plate!
Congratulations! You've successfully prepared a delectable pot of Kinamatisang Pork Ribs. The tender pork ribs, tangy tomatoes, and an array of vegetables have combined to create a symphony of flavors that will leave your taste buds dancing with joy.
The Perfect Pairing: Serve this heartwarming soup hot, accompanied by a bowl of steamed rice. The contrast of flavors and textures will take your dining experience to new heights, providing a comforting and satisfying meal.
Share the Love: Don't forget to share this delightful recipe with your family and friends. Kinamatisang Pork Ribs is a dish that brings people together, creating fond memories and filling hearts with warmth and happiness.
Wrap-Up
Kinamatisang Pork Ribs is more than just a culinary delight; it's a celebration of flavors and a testament to the ingenuity of Filipino cuisine. By using ripe tomatoes as the souring agent, this dish offers a refreshing twist on the familiar taste of pork sinigang. With its tender pork ribs, vibrant vegetables, and savory-sour broth, Kinamatisang Pork Ribs is sure to become a favorite in your home.
So why wait? Head to your kitchen, gather the ingredients, and let the magic unfold as you prepare this delightful Filipino dish. Experience the joy of creating something truly special and savor the delightful flavors of Kinamatisang Pork Ribs! Want to try other pork recipe? Try this sinigang na baboy recipe!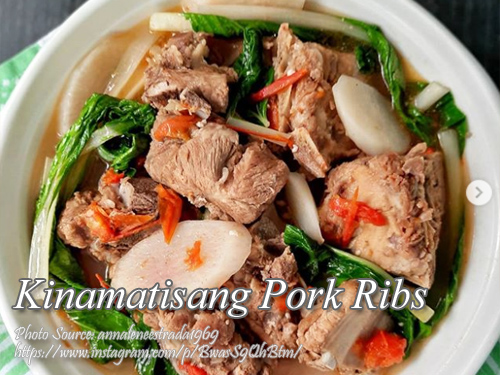 Print Recipe
How to Cook Kinamatisang Pork Ribs
Kinamatisang pork ribs is a pork bone soup prepared by slowly simmering the bony pork cuts until tender and combined with white radish (Daikon), pechay, garlic and onions and a generous amount of tomatoes.
Ingredients
1

kilo

pork ribs

3/4

kilo

very ripe tomatoes

chopped

2

pcs

white onions

chopped

2 to 3

cloves

garlic

minced

1

tsp.

salt

1

piece

white radish

sliced diagonally

2

bunches

pechay

1

Tbsp.

patis

1/4

cup

cooking oil
Instructions
How to Cook Kinamatisang Pork Ribs
Heat cooking oil in a wok or pot over medium heat. Saute onions, and garlic until the onion is tender.

Add in the tomatoes and saute for a minute then pour patis. Then cover and simmer until the tomatoes are tender.

Add the pork ribs and saute until the pork changes color. Cook for about 3 to 5 minutes.

Add 1.5 liters water and bring to a boil. Lower heat and cover. Simmer for 20 minutes or until meat is fork tender.

Add in the radish and simmer for 10 more minutes.

Before serving, add pechay and let it cook for 1 to 2 minutes and season with salt if needed. Serve hot.
Notes
Cooking Tips for Kinamatisang Pork Ribs:
Select Quality Pork Ribs: When preparing Kinamatisang Pork Ribs, opt for bony cuts of pork ribs that have a good amount of meat on them. The bones will impart richness to the broth, while the meat will become tender and succulent during the simmering process, enhancing the overall flavor of the dish.
Choose Ripe and Juicy Tomatoes: The choice of tomatoes plays a crucial role in achieving the perfect balance of flavors in this dish. Look for fully ripe and juicy tomatoes to ensure that they contribute the right amount of tanginess to the broth. Avoid using unripe tomatoes, as they may lack the desired level of acidity.

Simmer Slowly for Enhanced Flavor: To extract the maximum flavor from the ingredients, it's essential to simmer the pork ribs and vegetables slowly. Allow the broth to simmer over low to medium heat, giving ample time for the flavors to meld together and create a rich and savory soup. This slow cooking process will result in a delightful pot of Kinamatisang Pork Ribs that will leave your taste buds satisfied.