A Delicious Filipino Delight
If you're looking for a simple yet satisfying Filipino dish, ginisang pechay with pork is an excellent choice. This delightful meal features sautéed pechay (Chinese cabbage) and pork, creating a harmonious blend of flavors and textures. Pechay, a versatile leafy vegetable, plays a significant role in Filipino cuisine, making it a staple in many dishes like nilagang baka and nilagang baboy. While you can substitute pechay with bok choy, this recipe focuses on the authentic and traditional use of pechay. Additionally, you can choose between sliced pork belly or ground pork based on your preferences and ingredient availability.
Sautéing the Aromatics
To start preparing your ginisang pechay with pork, follow these easy steps:
Heating the Cooking Oil: Begin by heating some cooking oil in a pan over medium heat. This step is crucial as it sets the foundation for the dish's rich flavors.
Sautéing Garlic, Tomato, and Onion: Once the oil is hot, sauté finely chopped garlic, diced tomato, and sliced onion. Allow them to sizzle and release their aromatic essence. Sauté until the onion and tomato become soft, creating a fragrant base for the dish.
Adding the Pork and Seasoning
Incorporating the Pork: Now, it's time to introduce the star of the show – the pork. You can use either sliced pork belly or ground pork, depending on your preference. Add your chosen pork to the pan, allowing it to mingle with the sautéed aromatics. Sauté the pork for approximately 5 minutes, or until it turns a beautiful golden brown.
Seasoning with Fish Sauce and Pepper: Enhance the flavor of your ginisang pechay with a dash of fish sauce and a sprinkle of ground pepper. These seasonings will add depth and complexity to the dish. Stir them into the mixture, ensuring that every ingredient is well-coated.
Simmering and Cooking the Pechay
Adding Water and Simmering: Pour an adequate amount of water into the pan, covering the pork and aromatics. Allow the mixture to come to a boil. Once it's boiling, reduce the heat and let it simmer for approximately 10 minutes. This simmering process is crucial for tenderizing the pork, so be patient.
Incorporating the Pechay: When the pork is tender, it's time to introduce the star vegetable – the pechay. Gently place the pechay on top of the simmering mixture, covering it with a lid. The steam will help wilt the pechay and infuse it with the flavors of the dish.
Final Steps and Serving
Finishing Touches: After adding the pechay, cover the pan and let it cook for about 30 seconds. The residual heat will wilt the pechay to perfection without overcooking it. Finally, turn off the heat, but leave the pan covered for an additional 5 minutes. This resting period allows the flavors to meld together, resulting in a truly delectable ginisang pechay with pork.
Serving Your Ginisang Pechay with Pork: Your dish is now ready to be served. The tender pork, sautéed aromatics, and vibrant pechay come together to create a delightful symphony of flavors. Enjoy it as a side dish to complement your main meal, or pair it with steamed rice for a hearty and satisfying Filipino feast.
Wrap-Up
Ginisang pechay with pork is a classic Filipino dish that combines the earthy goodness of pechay with the savory richness of pork. This simple recipe offers a quick and delicious way to enjoy the flavors of Filipino cuisine at home. Whether you're a seasoned cook or a novice in the kitchen, this dish is easy to prepare and bound to satisfy your taste buds.
So, the next time you have some pechay and pork on hand, don't hesitate to whip up this delightful dish. With its aromatic sautéed base, tender pork, and vibrant pechay, ginisang pechay with pork is sure to become a favorite in your repertoire of Filipino recipes. Give it a try and savor the authentic flavors of the Philippines in the comfort of your own kitchen.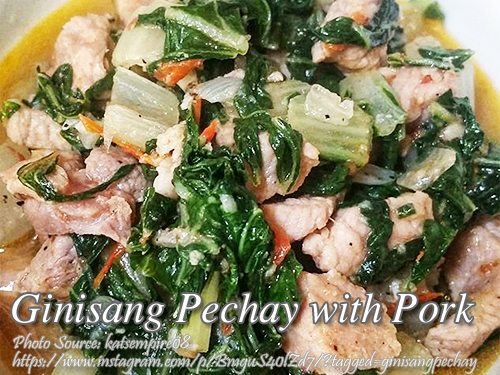 Print Recipe
How to Cook Ginisang Pechay with Pork
Servings:
2
to 3 servings
Ingredients
1/2

kilo

pechay

chopped

1/4

kilo

pork belly

chopped and thinly sliced

1

pc

tomato

diced

1

red onion

chopped

2

Tbsp.

fish sauce

1

Tbsp.

cooking oil

1

tsp.

garlic

1

cup

water
Instructions
How to cook Ginisang Pechay with Pork:
Heat cooking oil in a pan and saute garlic, tomato and onion until the onion and tomato is soft.

Add in the pork and saute for 5 minutes. Then pour fish sauce and pepper. Pour the water and bring to a boil. Simmer for 10 minutes or until the pork is tender.

Add in the pechay and cover. Cook for a 30 seconds and turn off heat. Then let is stand for another 5 minutes before serving.
Notes
Cooking Tips of Ginisang Pechay
Choose Fresh Pechay: When preparing ginisang pechay, selecting fresh pechay is crucial. Look for pechay with crisp, vibrant green leaves and firm, white stems. Avoid wilted or discolored pechay, as it may affect the overall taste and texture of the dish.
Sauté Aromatics to Perfection: To enhance the flavor of your ginisang pechay, take your time when sautéing the garlic, tomato, and onion. Sauté until the onion becomes soft and translucent, releasing their aromatic flavors, as this creates a solid foundation for the dish's taste.
Avoid Overcooking the Pechay: Pechay cooks quickly, so it's essential to avoid overcooking it to retain its vibrant color and crisp texture. After adding the pechay to the pan, cook it for only about 30 seconds, and then turn off the heat, allowing the residual heat to wilt the pechay to perfection without making it soggy.